Anyone out there who is looking for new ways to experience all that the hemp plant is capable of, it is time to experiment with the latest and greatest trend in cannabidiol (CBD), which is CBD skincare. However, finding the right CBD-infused skincare product can sometimes be a challenge. Why? Because not all CBD products, especially ones in this type of space, are created equally. So, it's no wonder few CBD skincare products on the market today can do it all quite like Koi Skincare CBD Facial Serum.
This topical skincare lotion can be applied to the face daily, providing the complexion with loads of cannabinoids that regulate important processes of the skin, while simultaneously offering soothing, firming, and moisturizing properties.  Not to mention, Unlike tetrahydrocannabinol (THC), pure CBD is a non-psychoactive cannabinoid. This means it doesn't make you feel high.  And, in this case, CBD does not travel through the body because it's being applied topically.
Why Should You Consider Purchasing Koi Skincare CBD Facial Serum?
Since 2015, Koi CBD has quickly become a favorite brand among hemp enthusiasts. Beyond that, Koi is one of the most innovative brands on the market. Their Skincare CBD Facial Serum is made with high-quality hemp extract that has been properly extracted and lab-tested. It's combined with a variety of natural, plant-derived ingredients with proven skin-boosting properties.
If you are wondering what make this particular CBD facial lotion so unique, it is time to break down its various properties that can be extremely useful to the skin.
Property #1: It's Anti-Cellular disruptive
Skin cellular disruption can present itself in many ways, whether it be acne or eczema. But, whatever the cause, it's important to manage it properly with the best therapeutics. Koi Skincare CBD Facial Serum offers lots of anti-soreness activity to inflamed skin, thanks to CBD itself, which has anti-soreness properties, combined with other natural ingredients.
Property #2: Soothing, Smoothing, Firming, and Balancing
This expertly developed formula combines the best that mother nature has to offer to multi-task once this topical formula has been applied. Camellia oil contains essential fatty acids, oleic acid, plant collagen and Vitamin A, Vitamin D, and Vitamin E to act as an emollient. Meanwhile, a multitude of plant oils balance the skin's tone so that you may appear more radiant overall.
Property #3: Rich in Antioxidants
Antioxidants in plant compounds fight free radicals, which directly minimizes the signs of aging, such as fine lines and dullness throughout the complexion. Koi Skincare CBD Facial Serum is rich in antioxidants, both from the hemp extract and the variety of plant-based oils and extracts. Applying these antioxidants to your skin daily can both prevent and minimize physical indicators of mature skin, allowing you to look youthful as your skin glows.
Adding to that, because it contains highly concentrated omega-3 fatty acids from algae oil, it helps prevent dryness and reduce the appearance of fine lines and wrinkles. The Jojoba Oil is a humectant ingredient that helps to create a protective barrier that seals in moisture.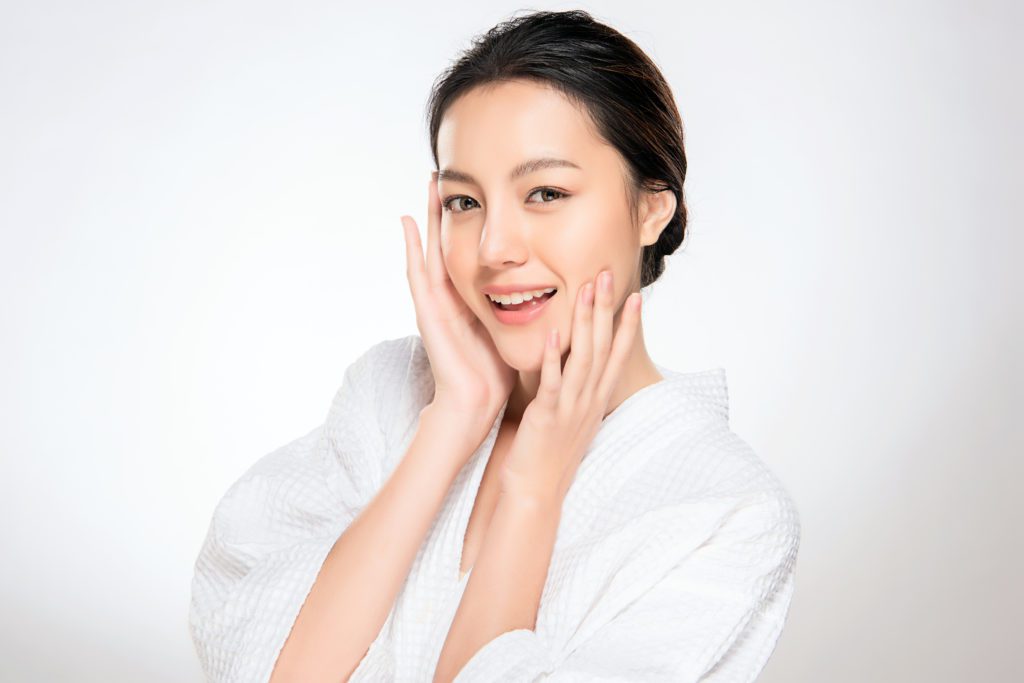 Property #4: Intensively Moisturizing and Hydrating
If there is one thing that the skin needs, it's moisture, and lots of it. Dry skin is a leading cause of many skin-related woes, including fine lines, dullness, and even acne, which can result from the skin's natural oil-producing glands overcompensating for a lack of moisture.
Furthermore, the skin needs ample hydration, which is different from moisture. While moisture provides the skin with essential fatty acids, hydration gives water to the skin cells to produce a plumper, smoother look. Therefore, the key to maintaining healthy-looking skin is using products that both moisturize and hydrate.
Good news is that Koi Skincare CBD Facial Serum provides both moisture and hydration, all at once. Naturally, hydrating hemp seed oil moisturizes without clogging your pores, helping to regulate and balance out oily skin. Meanwhile, soothing pomegranate seed oil provides hydrating relief. The result is skin that appears plumper, smoother and more radiant, while feeling soft to the touch.
Property #5: Improves Skin Structure and Circulation
One major key to glowing, healthy-looking skin is circulation. Without proper blood flow, the skin can take on a dull appearance, and besides that, the complexion requires proper circulation to activate its self-healing mechanisms. This expertly developed formula provides crucial circulation through cannabinoids that regulate blood flow throughout the skin's many layers.
This formula improves skin structure, which directly affects the rate of aging of the skin. The structure of the skin refers to the tissue between the skin cells, and it tends to get little attention. But, if structure is not maintained, the skin can take on a sagging, hollow appearance. Koi Skincare CBD Facial Serum uses prickly pear oil containing Vitamin K to brighten hyper-pigmentation areas such as dark spots and under-eye dark circles, while fatty acids help to replenish lost lipids and restore elasticity. Basically, it uses essential proteins that act as building blocks between the cells.
How to Use Koi Skincare CBD Facial Serum
Using Koi Skincare CBD Facial Serum couldn't be any simpler. We recommend using this as the last part of your routine, as it will help seal in moisture and hydration. Apply it daily to clean skin, using just one pump and massaging it evenly along the skin's surface. From there, you can apply makeup if you so choose.
Deeply Hydrating and Infused with CBD Makes Koi Skincare CBD Facial Serum A Must-Have Tropical Care Solution
Koi Skincare CBD Facial Serum offers an enormous array of beneficial properties to your skin, including an ample dose of CBD itself, which can play a large role in maintaining the overall wellness of your complexion. Use it daily and watch your skin transform, becoming more hydrated, moisturized, radiant, and youthful in appearance.
Keep mind that with any skincare formula you use, or even think about purchasing for that matter, it all comes down to these five things:
Ingredients
Quality
Lab Reports
Manufacturer/Brand Reputation
How Effective the CBD Skincare Topical Product Will Be (depending upon your skin)
Pure CBD Now have these KOI tropical care products to choose from: