At Pure CBD Now, the customers have spoken, and they absolutely love the lineup of hemp formulas that Maui Labs has introduced onto the delta 8 market. This brand hit the ground running with a uniquely dazzling array of formulas. In fact, many of which are extremely innovative and hard to find elsewhere. Of all of the Maui Labs products that we carry here, these ones have proven themselves as top-sellers.
First, About Maui Labs
Maui Labs is a relatively new brand to the scene that emerged to offer unique delta 8 THC products to satisfy a wide array of customer needs and preferences. With many delivery methods available, they have something for every delta 8 enthusiast, while their formulas satisfy our standards when it comes to ingredients, extraction methods and lab-testing.
Did someone say chocolate? Maui Labs Delta 8 Chocolate Bars almost sound too good to be true,. But, reality is that they combine high-quality, rich n' creamy chocolate with some of the finest delta 8 THC distillate around to satisfy a multitude of desires all at once. Each bar offers a total of 500mg that is easy to break apart into individual servings, and the flavor selection is out of this world, with decadent choices like toffee and cookies 'n' cream. The ingredients are top-quality and carefully sourced. Even better, the delta 8 is highly bioavailable while offering long-lasting effects through the gut process.
Choose Maui Labs Delta 8 Chocolate Bars Because…
500mg delta 8 THC per bar
Exciting variety of flavors
Clean ingredients
Great alternative to gummies
Long-lasting effects
If you prefer to vape your delta 8 THC but can't be bothered with charging and maintaining a vaping device, look no further than this Delta 8 Disposable Vape from Maui Labs. It's extremely user-friendly, pocket-friendly, and maintenance-free (requiring no charging, filling of e-liquid, or cleaning). Its formula contains 925 milligrams of hemp extract with delta 8 THC, CBD, and CBN for a more balanced cannabinoid experience that still delivers the buzz for which delta 8 is known. Best of all, it comes in a great selection of beloved strains (Banana OG – Indica, Island Sweet Skunk – Sativa, Sunset Sherbet – Hybrid, Watermelon – Hybrid, Wedding Cake – Hybrid, and White Runtz – Hybrid).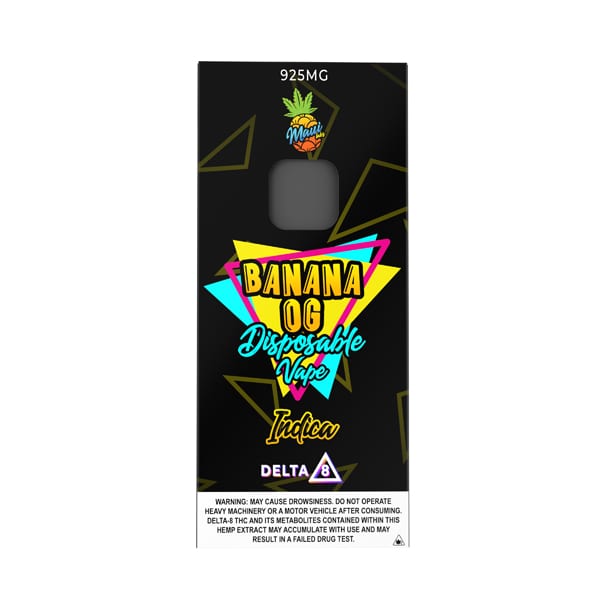 Choose Maui Labs Delta 8 Disposable Vape Because…
Delta 8, CBD and CBN
Great strain selection
Travel-friendly
Maintenance-free
No added ingredients
Maui Labs Delta 8 Flower offers a pure, natural way to experience the many properties of delta-8, as it consists of raw hemp flower buds that are naturally full spectrum for the entourage effect, sprayed with a potent delta 8 THC distillate. Available in 3.5g and 7g size options, you can select from a variety of popular strains (Bubba Kush – Hybrid, Cookies – Hybrid, Gelato – Hybrid, and White Diamond – Sativa) to control your experience according to your most precise goals.
Choose Maui Labs Delta 8 Flower Because…
Natural, raw flower buds infused with delta 8
Full spectrum for the entourage effect
Arrives fresh and full of flavor
Great strain selection
Two sizes available
Taking delta 8 THC sublingually with a tincture introduces a unique experience that is both long-lasting and relatively fast-acting, while providing balanced effects throughout the body and mind. This exceptional delta 8 tincture boasts 1000mg per 30ml bottle, with 3 great flavor options available (Mango, Strawberry, and Sugar Cookie), all while containing clean and natural ingredients. It's easy to dose out with the dropper cap, and acts as the perfect way to take delta-8 daily.
Choose Maui Labs Delta 8 Tincture Because…
1000mg delta 8 per 30ml bottle
3 great flavor options
Clean ingredients
Easy to take
Balanced effects
Easily, the most popular form of delta 8 THC is the delta 8 vape cartridge, and Maui Labs makes one of the best on the market, period. This delta 8 vape cartridge combines delta 8 THC distillate with terpenes in addition to CBD and CBN for a well-rounded hemp experience and the noted properties of numerous strains (Banana OG – Indica, Island Sweet Skunk – Sativa, Sunset Sherbet – Hybrid, Watermelon – Indica, Wedding Cake – Indica, and White Runtz – Indica). Compatible with any 510-threaded device, it's filler-free for maximum purity.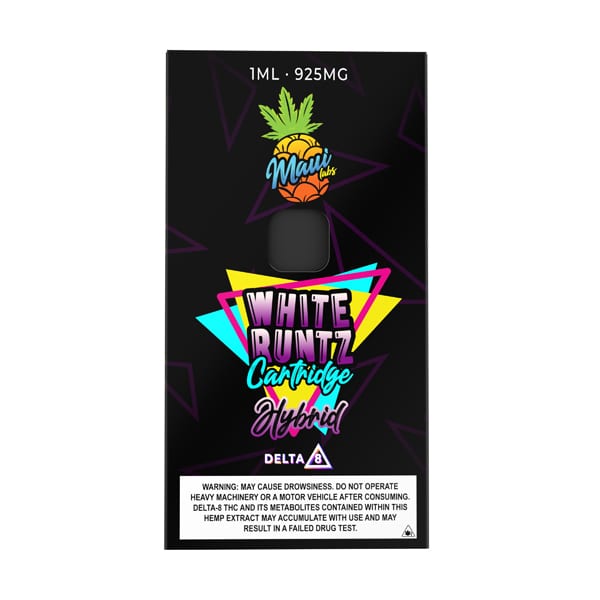 Choose Maui Labs Delta 8 Cartridge Because…
Delta 8 plus CBD and CBN
Great strain selection
Fast-acting through inhalation
510 compatible
Additive and filler-free
Find Out Why Everyone is Raving About Maui Labs at Pure CBD Now!
If you want to experiment with different delta 8 THC products, Maui Labs is worth checking out. All of their products are lab-tested, federally compliant, and made with top-notch ingredients to offer everything you could ask for in a delta 8 formula.