Nature's Script is known for their high-end hemp products with an emphasis on wellness that comes from their use of carefully selected plant derivatives, and their appreciation for botanical sciences that comes through in their signature formulas. In an effort to make the selection process easier, we have narrowed down the best of the best from Nature's Script products that are worth trying.
First, About Nature's Script
Nature's Script is one of the most beloved brands in our industry thanks to their stunning integrity when it comes to making their products. In addition to the hemp itself, each and every product is formulated with the most thoughtful ingredients to ensure maximum results and gentleness on the body. Available in all kinds of unique product types and options, their catalog has something for every need.
For those who want to give their furry companion a daily dose of CBD, there's the Nature's Script CBD Dog Treats which are some of the cleanest on the market. These dog-friendly edibles are made carefully with ingredients safe for your dog to ingest, and the flavor is highly appealing to their senses. Each biscuit can be administered daily at any time under the guidance of your veterinarian. Give your canine the daily support they need for longer walks and more belly rubs today.
Choose Nature's Script CBD Dog Treats Because…
Low CBD per piece
Tested by independent labs
Long-lasting effects
Dog-friendly ingredients
Easy to digest
Nature's Script has found a way to make baths even more relaxing than before. Their CBD Bath Bomb is available in three distinctive fragrance options to choose from as well as a variety pack, all based on essential oil blends that enhance the luxury of the experience. Each bath bomb contains 75 milligrams of hemp extract that dissolves quickly into the water to infuse your muscles with the cannabinoid from head to toe as you soak at your leisure. Meanwhile, Epsom salts provide the muscles and joints with magnesium while soothing the skin.
Choose Nature's Script CBD Bath Bomb Because…
75mg CBD per bath bomb
Different scent options
3 in a pack
Natural ingredients
Perfect for bath lovers
Nature's Script is known for their variety of CBD gummies, and their Sleep Gummies are perfect for those with bedtime-related needs. These gummies are easy on the body and formulated with only natural ingredients that digest effortlessly while the effects can last for up to 8 hours. Available in a wide variety of count options, each gummy contains 15 milligrams of CBD extract along with 5 milligrams of melatonin, a natural and plant-derived sleep promoter. These gummies are also flavored to appeal to the taste buds, so that each dose is thoroughly enjoyable to the palate. Take one per night and enjoy effects that can last for several hours.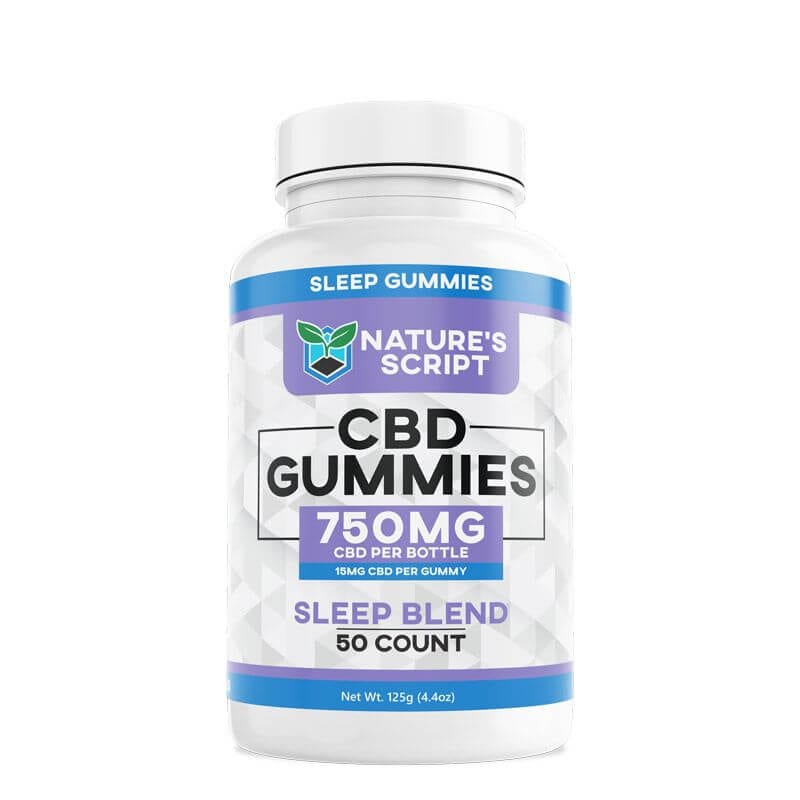 Choose Nature's Script CBD Sleep Gummies Because…
5mg melatonin per gummy
15mg CBD per gummy
Deliciously flavored
Natural ingredients
Long-lasting effects
We all deal with aches and discomforts from time to time. Nature's Script CBD Discomfort Patches can be slapped onto any area of the body for time-released CBD to infuse into the muscles and joints through the skin. These patches are gentle enough for sensitive skin and make no mess whatsoever. Infused with a blend of hemp extract, iodine, and menthol, they offer a powerhouse trio that can get the job done. Each patch can provide effects for up to 12 hours while staying put as you go about your day or sleep during the night.
Choose Nature's Script CBD Discomfort Patches Because…
100mg CBD per patch
Enhanced with menthol and iodine
Up to 12b hours of effectiveness
No sticky or greasy mess
Easy to apply
Yet another phenomenal gummy formula from Nature's Script is their Immunity CBD Gummies, blending together high-quality CBD extract and elderberry to give your body the boost that it needs. Each gummy contains 50 milligrams of elderberry extract and 15 milligrams of CBD, with these two natural plant derivatives working together harmoniously. The elderberry flavor is dreamy to the taste buds and offers a sweet, fruity experience that you'll absolutely adore. The effects can last for hours in the body while being quite easy to take as part of a daily routine.
Choose Immunity CBD Gummies with Elderberry Extract Because…
Delicious berry flavor
50mg elderberry per gummy
15mg CBD per gummy
Gentle on the gut tract
Long-lasting effects
Searching for an advanced topical for localized areas? Heat Relief CBD Spray from Nature's Script is a great choice. With 125mg CBD per spray bottle, it can be applied to larger areas of the body while quickly absorbing thanks to a water-based formula that enables fast-acting yet long-lasting effects. Provides a heating sensation that works in the muscles and joints through natural plant derivatives, while being great for sensitive skin.
Choose Nature's Script Heat Relief CBD Spray 125mg Because…
Use up to 3-4 times a day to warm up stiff joints and muscles
Advanced heating formula
Water-based and non-greasy
Fast-activating
Travel-friendly
Another topical that's perfect for daily use is the Nature's Script CBD Roll-On Discomfort Gel, in a water-based gel formula that absorbs quickly to activate in the muscles and joints. The roll-on applicator allows this to be highly portable and applied anywhere at any time, whether at work or at the gym, or simply in the comfort of your own home. The bottle contains 2000mg of CBD extract formulated with gentle, natural ingredients that enable the absorption process without leaving behind a greasy residue.
Choose Nature's Script CBD Roll-On Discomfort Gel Because…
Fast-acting
Travel-friendly
Natural ingredients
Mess-Free
Gel-based formula
The standard CBD gummy formula from Nature's Script is anything but basic, with a generous 15mg of pure CBD isolate per gummy combined with mouthwatering flavor to hit the spot whenever it's time for your daily dose. Gummies offer long-lasting effects for up to several hours due to the delivery method, making this a great daily product for maintaining active levels of cannabidiol in the system. Choose from a variety of quantities based on your needs as it really doesn't get any better than this.
Choose Nature's Script CBD Gummies Because…
Helps to promote overall wellbeing
Delicious flavor
THC-Free
Pure, concentrated CBD isolate
Long-lasting effects
Need a little extra CBD to get through your day, no problem. Nature's Script high potency gummies can get the job done with 30 milligrams of THC-free CBD isolate per piece. Combined with delicious fruity flavor, they hit the spot with every piece. The gentle, clean formula is easy on the body and offers several hours of active cannabidiol levels throughout the system. Within each package is an assortment of delectable flavors, and you can choose your quantity based on the needs of your routine. Travel-friendly sizes are also available for taking CBD with you on the go.
Choose High Potency CBD Gummies Because…
30mg per piece
THC-free CBD isolate
Low sodium
Enjoy anywhere
Delicious flavor (no artificial sweeteners)
We absolutely adore the Nature's Script Hemp Oil because it comes in a wide array of milligram strengths (up to 5000mg per 30ml bottle) and various enticing flavor options derived naturally. This tincture formula is made with full spectrum hemp extract for a multi-faceted hemp experience complete with various cannabinoids and terpenes that work together synergistically to multiply their capabilities. Tincture is easy to take with a dropper cap that allows for simple and straightforward dosing, and lets you to savor all that the hemp plant has to offer with a single dropper of oil. Versatile, potent, pure and more than capable of satisfying your daily CBD-related needs.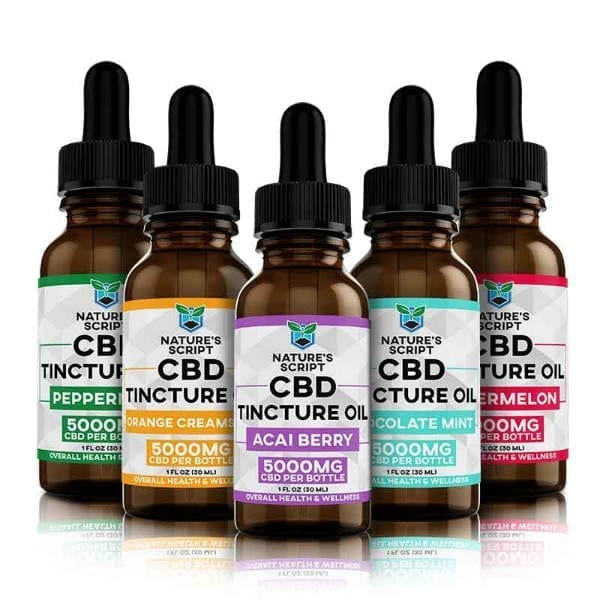 Choose Nature's Script Hemp Oil Because…
Various strengths available
Wide selection of flavors
Clean ingredients
Easy to take daily
Full spectrum hemp extract
Flip the CBD and Hemp Scripts with Nature's Script
Nature's Script has gone above and beyond to produce some of the finest hemp products on the market, and we have got them right here at Pure CBD Now. On-site professional formulators, manufacturing representatives, and fulfillment specialists lead the product from plant to consumer. So go ahead and explore what this brand can add to your routine by checking out their blissful selection today.