Coloradans by and large embrace cannabis, as the state is one of the first to legalize its recreational use. But, the cannabis market is always evolving, especially since the legalization of hemp a few years ago. One of the most exciting derivatives of the hemp plant is delta 8 THC, a uniquely psychoactive cannabinoid that has proven to be hugely popular throughout the country. But, is it legal in Colorado, and if so, where can residents purchase it to know they're getting mile high-quality delta 8?
How is Delta 8 THC Different from Delta 9 THC?
Delta 8 THC and delta 9 THC are two naturally occurring cannabinoids that offer ultimately different effects from one another.
Delta-9 naturally converts into delta-8 as it ages in the plant material, which results in an entirely new compound with distinctive properties.
Delta 8 is about 70% as intoxicating as delta 9, which is why so many of its users say that they feel relatively clear-headed after using it by comparison.
Beyond that, delta 8 uniquely attaches primarily to CB1 receptors, which are cannabinoid receptors found throughout the body's nervous system.
How they double bond in each of their structures can also differ, as delta 8 is double bond on the 8th carbon atom, while delta 9 has a double bond on its 9th chain. With its different double bond location, delta-8 binds to the endocannabinoid system (ECS) uniquely, so it's less potent than delta-9.
Is Delta 8 THC Legal in Colorado?
Whether you live in Denver, Boulder, Colorado Springs, Aspen, Aurora, or any other portion of the state, you cannot legally purchase delta 8 THC. Although the 2018 Farm Bill made the hemp plant fully legal in the United States by declaring all hemp products containing a maximum of 0.3% delta 9 THC federally permitted. Within Colorado, residents cannot purchase delta 8 as they so choose.
Where to Purchase Delta 8 THC in Colorado
Colorado residents cannot buy delta 8 THC from any licensed retailer. If they were though, it's good to know that delta 8 and marijuana have a lot in common. So, make sure that you're buying delta-8 and not a marijuana-based product. Even though marijuana is legal in this state for people over the age of 21 years old.
Pure CBD Now has become the go-to one-stop shop for delta 8 THC due to carrying only the most trusted names in the hemp industry (including our in-house brands). You will find an enormous selection of products in order to choose the best delta 8 product for your needs. All, while enjoying affordable prices and fast shipping to any residence in the state of Colorado.
Look no further for Delta 8 products. Pure CBD Now can deliver to your doorstep. Here are some Delta 8 products that you can consider:
Dessert Delta 8 Pre-Rolls 1 Gram – This product is avaiable in different flavors – Lemon Pound Cake, Blueberry Cream Pie, Fruity Loop Milk, and Strawberries N' Cream. Contains 8THC and.3% 9THC produced from hemp in a handy pre-roll.
Delta 8 THC Oral Strips 15mg – Oral strips are not only safe but discrete and convenient. Each strip has amount of D8 THC at 15mg per strip. Available in orange and peach flavor.
Blue Moon Hemp D8 and CBD Tincture 2000mg – With this tincture, you can experience the potency of Delta 8 Individual tolerance should be considered when using this product. Available in Natural, Cool Mint and Wild Berry.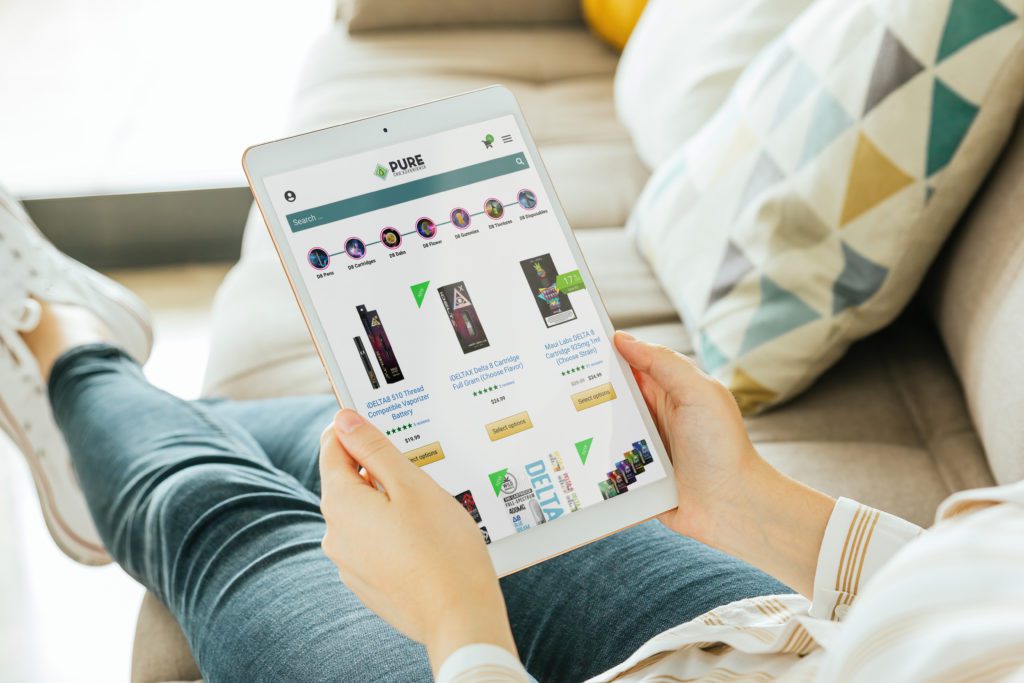 What Places Should You Avoid Purchasing Delta 8 THC From?
When shopping for most other products that you need, the same rules should apply – when looking to make a purchase, there are some places that must be avoided.
Convenience Stores and Gas Stations
Although these can be convenient locations, it is unlikely that these places are selling high-quality delta 8. They simply do not screen for quality, and instead are simply looking to sell hemp goods cheaply and quickly. There really is no level of expertise needed to spot a fake delta-8 product.
Non-Business Entities
Never buy delta 8 or any hemp-infused product for that matter from an unlicensed business. Companies that sell hemp goods must be registered with their state. If they are not registered, they aren't compliant to begin with and should be avoided at all costs. Also, avoid buying delta-8 from strangers online, in social media outlets, forums, or on Craigslist/Facebook/eBay.
What Kinds of Delta 8 THC Products Can I Buy Outside of Colorado?
The delta 8 THC market offers a diverse array of product types. Each introduces this cannabinoid into the body in a distinctive way. Every user has their own preferences and needs. So, you can see why then it is important to consider all of the different products that you can choose from.
Vape Cartridges: D8 vape carts are 510-threaded carts that attach to any standard vape pen. Within them is a blend of delta 8 distillate and terpenes, and you can find a wide array of strains.
Disposable Vapes: D8 disposable vapes are an alternative to vape carts, being all-in-one disposable devices that never need to be charged, refilled or assembled. They also offer a generous strain selection.
Edibles: D8 edibles produce the longest-lasting effects – up to 8 hours – along with a body high sensation. You can find an enormous variety of tasty flavors.
Tinctures: D8 tinctures absorb below the tongue, being oil-based formulas that come in various milligram strengths. Effects are more subdued than vapes and spread out over a few hours.
Capsules: D8 capsules offer an alternative way to ingest delta 8 THC, with fewer ingredients.
Flower: D8 flower is hemp flower infused with pure delta 8 THC. Choose between loose buds and pre-rolls and find all kinds of strains.
Dabs: D8 dabs are concentrates, which have high delta 8 THC potency levels that aren't necessarily beginner-friendly. They're vaped at high temperatures using a dabbing device.
Topicals: D8 topicals are applied to the skin to offer localized effects within the muscles and joints, as they do not cause psychoactive effects.
One Day You Will Be Able Tap The Rockies in The Centennial State with Delta 8 THC
Colorado has recently banned delta 8 THC, with the DPHE stating that delta 8 synthesized from other cannabinoids isn't compliant with the state's legal definition of industrial hemp. However, as delta8's popularity expands and the research continues to rise, we might see legal delta 8 again in CO's cannabis scene.