New Jerseyans all across New Jersey have shown a lot of love for cannabis and the hemp plant in general, which has allowed residents to explore the natural effects of CBD, and more recently, delta 8 THC. Delta 8 is quite a unique cannabinoid because it's intoxicating, unlike cannabidiol. And, because of this, a lot of state residents aren't entirely sure whether or not it's legal, let alone where they can even buy it.
Of course, it's important to follow state law when it comes to purchasing hemp-based products. Not to mention, also know how to shop for products that are lab-tested and formulated with safety in mind.
How is Delta 8 THC Different from Delta 9 THC?
Delta 8 THC and delta 9 THC are both naturally occurring cannabinoids that offer ultimately different effects from one another.
Due oxidization, delta 9 converts into delta 8 as it ages within the plant.
Delta 8 takes on new properties, while retaining many of delta 9's properties as well.
Most importantly, delta 8 is mildly psychoactive, retaining about 70% of the intoxicating properties of delta 9. It does result in a high, but the high is more clear-minded.
How they double bond in each of their structures can also differ, as delta 8 is double bond on the 8th carbon atom, while delta 9 has a double bond on its 9th chain. With its different double bond location, delta-8 binds to the endocannabinoid system (ECS) uniquely, so it's less potent than delta-9.
And, delta 8, unlike delta 9, almost strictly works with cannabinoid receptors in the nervous system, known as CB1 receptors.
Is Delta 8 THC Legal in New Jersey?
The good news for residents of New Jersey from areas like Trenton, Atlantic City, Cherry Hill, Pennsauken, Newark, and even Jersey City is that delta 8 THC is a fully legal cannabinoid. This is due to the state's adherence to the Farm Bill, which passed in the United States in 2018 to legalize all hemp products containing a maximum delta 9 THC level of 0.3%. State residents who are adults are free to explore the entire delta 8 market, as they can purchase any product type in any concentration.
Take note that's recommended not to consume delta 8 THC if you have to drive or work. You will become intoxicated. Keep in mind, too, that delta 8 and delta 9 are alike in terms of how they are processed by the body. Hence, using delta-8 could trigger a positive drug test.
Where to Purchase Delta 8 THC in New Jersey
Before you simply purchase the first delta 8 product that you come across, you'll want to make sure that you're buying only lab-tested, top-shelf-quality delta 8 THC. Also, delta 8 and marijuana have a lot in common, so make sure that you are buying delta-8 and not a marijuana-based product, even though marijuana is legal in this state.
When shopping, you have two options:
Local Shops
This is likely to be at a vape shop or sometimes a dispensary. So, you'll want to research a retailer first, say on Weedmaps, to know whether or not they are carrying premium-grade product. You will also need to make sure that they carry the type of delta 8 product that you're looking for.
Online
Typically, this is seen as the preferred way to go, because buying delta 8 online comes with many advantages that you can't get from buying it in a local store.
Larger selection of products available, so that you can choose your preferred delivery method, formula, milligram strength, strain, etc.
More affordable prices due to lower overhead costs.
Higher standards of quality due to a more competitive marketplace.
Special offers and promotions throughout the year.
Bundles and other options for buying in bulk while saving money.
The ability to shop without leaving your home.
Fresher product thanks to a higher product turnover rate.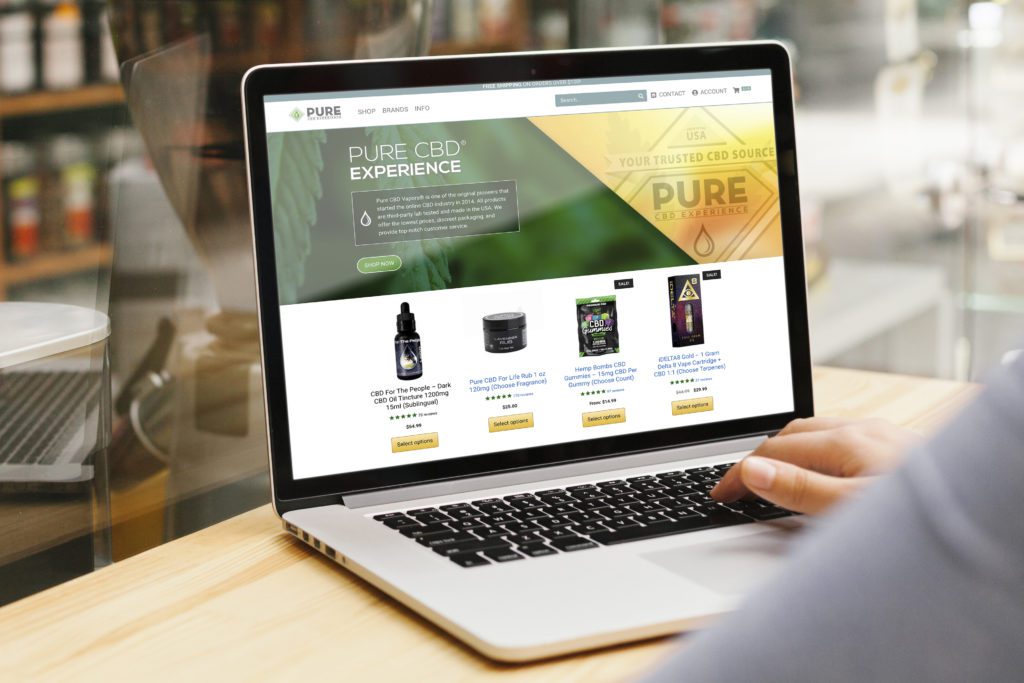 Pure CBD Now is one of the leading retailers carrying delta 8 THC products. You'll find only the most reputable brands in the business, who all engage in proper lab-testing protocol and adhere to federal standards and regulations. There is a massive selection of products to choose from, all at affordable prices, while allowing customers to enjoy fast shipping directly to their New Jersey residence.
What Places Should You Avoid Purchasing Delta 8 THC From?
When shopping for most other products that you need, the same rules should apply – when looking to make a purchase, there are some places that must be avoided.
Convenience Stores and Gas Stations
Although these can be convenient locations, it is unlikely that these places are selling high-quality delta 8. They simply do not screen for quality, and instead are simply looking to sell hemp goods cheaply and quickly. There really is no level of expertise needed to spot a fake delta-8 product.
Non-Business Entities
Never buy delta 8 or any hemp-infused product for that matter from an unlicensed business. Companies that sell hemp goods must be registered with their state. If they are not registered, they aren't compliant to begin with and should be avoided at all costs. Also, avoid buying delta-8 from strangers online, in social media outlets, forums, or on Craigslist/Facebook/eBay.
What Kinds of Delta 8 THC Products Can I Buy in New Jersey?
Throughout NJ, residents are free to try out all kinds of delta 8 THC products that each deliver a unique experience. It's always helpful to know what to expect with each type of delta 8 product on the market, to select one that's most likely to give you the experience you're seeking out.
Vape Cartridges: D8 vape carts are 510-threaded vape carts used with rechargeable vape pens. Contain delta 8 distillate and terpenes, and also come in a rich array of strains.
Disposable Vapes: D8 disposable vapes require no maintenance or charging, arriving fully assembled and ready to go out of the package.
Edibles: D8 edibles offer delicious flavor while delivering up to 8 hours of effects and a more notable "body high".
Tinctures: D8 tinctures are absorbed through the tissue below the tongue, offering effects spread out over 4 to 6 hours.
Capsules: D8 capsules allow for an alternative to edibles, behaving in the same manner but containing fewer ingredients.
Flower: D8 flower is raw CBD flower infused with delta 8 THC distillate, with both loose buds and pre-rolls available in all kinds of strains.
Dabs: D8 dabs are extremely potent concentrates that are "dabbed" with a special type of vaping device.
Topicals: D8 topicals absorb into the muscles and joints in the skin, offering localized, non-intoxicating effects.
No Matter Where You are in The Garden State, Enjoy Your Delta 8 THC Experience
From the 'Shore all the way up to Northern Jersey, NJ is one of many states in which delta 8 THC is fully legal to all adults. Now, the key is finding lab-tested, premium-quality delta 8 in the product type of your choice. For the best experience possible, search for a reputable online retailer who goes above and beyond to deliver some awesome delta-8 products.
Note: Keep up to date on the laws periodically as they can change frequently. With delta 8 THC being new, most states haven't had the chance to give statements on this cannabinoid. Still, delta 8 is likely here to stay, since it's a compound that is legal as cannabidiol is on a federal level.