There is no doubt that Delta 8 THC is a top-selling hemp derivative of the moment. And, in a couple of years, it has been on the market, it's proven to be an extremely valuable cannabinoid. Mainly due to its unique effects which include a pleasant psychoactive buzz. But, we all know that when it comes to cannabis, laws can get quite confusing, especially on a state level. Although Oregon has been cannabis-friendly, as well as CBD friendly, Oregonians are by and large eager to now explore delta 8 for themselves. But, they want to first know that it's fully legal where they live.
How is Delta 8 THC Different from Delta 9 THC?
Delta 8 THC is a cannabinoid that's often measured up to delta 9 THC, and for good reasons:
Delta 8 THC is a fascinating cannabinoid that results from oxidized delta 9 THC. It ages over time and slowly converts into delta 8.
Delta 8 is about 70% as intoxicating.
How they double bond in each of their structures can also differ, as delta 8 is double bond on the 8th carbon atom, while delta 9 has a double bond on its 9th chain. With its different double bond location, delta-8 binds to the endocannabinoid system (ECS) uniquely, so it's less potent than delta-9.
Uniquely capable of working with CB1 receptors located in the body's nervous system.
Many delta 8 users say that the high is milder than that of delta 9, while offering feelings of bliss without completely taking away one's ability to focus and maintain a clear mind.
Is Delta 8 THC Legal in Oregon?
In 2018, the United States passed the Farm Bill, which legalized the hemp plant and its many derivatives, with the one restriction being that no hemp product can contain more than 0.3% delta 9 THC. Oregon adheres to federal law when it comes to hemp. Residents who are legal adults can purchase delta 8 THC in any product form, milligram strength, and quantity. Whether they live in Portland, Eugene, Salem, or any other region of the state, they can use delta 8.
Take note that's recommended not to consume delta 8 THC if you have to drive or work. You will become intoxicated. Keep in mind, too, that delta 8 and delta 9 are alike in terms of how they are processed by the body. Hence, using delta-8 could trigger a positive drug test.
Where to Purchase Delta 8 THC in Oregon
As you may already know as a CBD enthusiast, not all delta 8 THC is created equally. Once you decide to look for delta 8, you need to know that it's coming from a legitimate brand with a good reputation and that the delta 8 is lab-tested and hemp-derived.
Also, remember that delta 8 and marijuana have a lot in common, so make sure that you are buying delta-8 and not a marijuana-based product, even though marijuana is legal in this state.
You have one of two options when it comes to finding a delta 8 source:
Local Shops
You can simply search for local shops that carry delta 8 through a quick Google search or Weedmaps search. Typically, local shops that carry delta 8 do not specialize in hemp products. Therefore, the quality standards can vary, and the selection can be quite limited. Always research a store beforehand to make sure they have positive reviews.
Online
The majority of delta 8 enthusiasts have found that shopping for the cannabinoid online is the better option, as it comes with numerous advantages.
Wider product variety, with different flavors, ingredients, milligram strengths, delivery methods and formulas available.
Better prices due to fewer overhead costs.
Higher standards for quality due to higher customer expectations.
Special offers and promotions for lots of savings.
Options to buy products in bulk, and purchase bundles.
The convenience of shopping at home.
Fresher products due to a faster product turnover rate.
Pure CBD Now has an enormous selection of delta 8 products from the most trusted brands in the industry. We strictly carry lab-tested delta 8 THC formulated with carefully sourced ingredients, and offer all of the major delivery methods, along with various concentrations, strains and more. Our prices are affordable, and you'll be able to have an order shipped directly to your home in OR.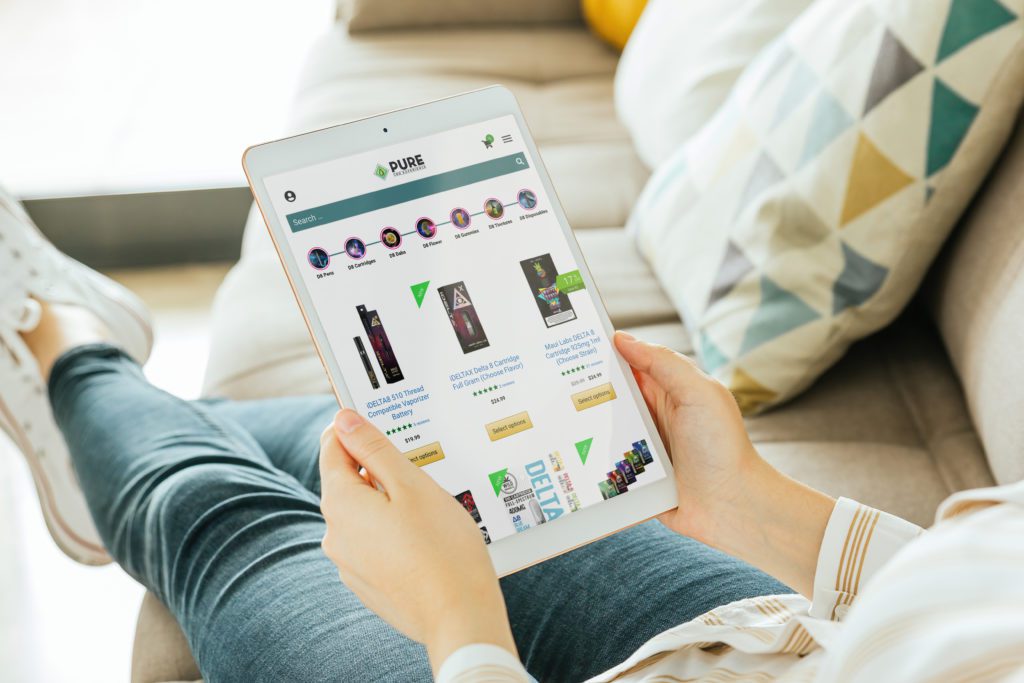 Pure CBD Now can deliver to your doorstep. Check out some of Delta 8 products:
Strain Snobs – Delta 8 Distillate Cartridge – This is the best way to experience Delta 8. Available in 500mg and 1000mg CBD content. This is in the form of a user-friendly pre-filled cartridge with only pure hemp extracts and no added ingredients.
Here are some Pure CBD Now Delta 8 products that can be delivered to you:
What Places Should You Avoid Purchasing Delta 8 THC From?
When shopping for most other products that you need, the same wisdom should apply – when looking to make a purchase, there are some places that must be avoided.
Convenience Stores and Gas Stations
Although these can be convenient locations, it is unlikely that these places are selling high-quality delta 8. They simply do not screen for quality, and instead are simply looking to sell hemp goods cheaply and quickly. There really is no level of expertise needed to spot a fake delta-8 product.
Non-Business Entities
Never buy delta 8 or any hemp-infused product for that matter from an unlicensed business. Companies that sell hemp goods must be registered with their state. If they are not registered, they aren't compliant to begin with and should be avoided at all costs. Also, avoid buying delta-8 from strangers online, in social media outlets, forums, or on Craigslist/Facebook/eBay.
What Kinds of Delta 8 THC Products Can I Buy in Oregon?
You'll quickly discover that just like cannabidiol, delta 8 THC can be purchased in a wide array of product forms. Plus, each one offers a distinctive delta 8 experience. With that said, here are the most popular types of delta-8 products to choose from when the time comes to make a purchase.
Vape Cartridges: Disposable cartridges pre-filled with d8 vape oil which consists of pure delta 8 THC distillate and terpenes, in various strain options. They are universally compatible with vape pen devices made for hemp e-liquids.
Disposable Vapes: D8 disposable vapes are a maintenance-free alternative that arrive fully assembled, with a charged battery (never needs to be recharged) and attached cartridge.
Edibles: D8 edibles offer up to 8 hours of effects and a distinctive body high sensation, while coming in lots of great-tasting flavors.
Tinctures: D8 tinctures absorb through the sublingual tissue, in the form of diluted delta 8 THC distillates in various concentrations.
Capsules: D8 capsules work in the body just like edibles, but with a simpler formula that is broken down by the body more easily.
Flower: D8 flower refers to delta 8 distillate-infused CBD flower buds that come in lots of different strains. You can find both loose buds and pre-rolls.
Dabs: D8 dabs are very powerful concentrates with potency levels less suitable for beginners. They are flash-vaporized through a dabbing device for a very strong delta 8 experience.
Topicals: D8 topicals absorb through the skin to reach the deep tissue in a localized and targeted way, which is why they do not get the user high.
Try Legal Delta 8 THC in the Beaver State Today!
Overall, delta 8 THC is a cannabinoid that's fully legal throughout Oregon, so you can enjoy its properties without any real restrictions aside from age. This means that you can try different delta 8 product types to see which one works for you. In order to know, however, that you're getting only pure, lab-tested delta8, we suggest that you stick to a reputable online source known for maintaining strict quality standards. This will increase the chances of feeling fully satisfied with your delta-8 experience.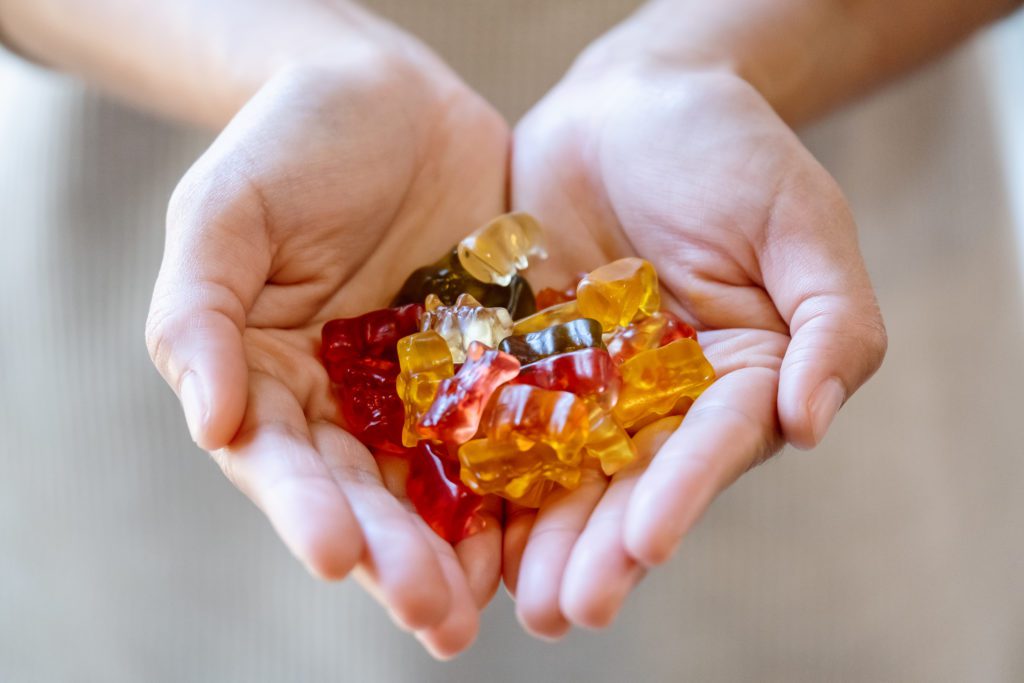 Note: Best to check up on the laws periodically as they can change frequently. With delta 8 THC being new, most states haven't had the chance to give statements on this cannabinoid. Still, delta 8 is likely here to stay, since it's a compound that is legal as cannabidiol is on a federal level.