The holiday season is a time of joy and cheer. It is also a time of overwhelm for many of us who find ourselves running around trying to get everything in order so that we can serve the perfect holiday dinner and give the best gifts to our friends and family.
If you are finding yourself running on empty this holiday season, and need a feeling of bliss and upliftment as you go about your festivities, why not try adding some CBD to your favorite seasonal treats?
CBD Eggnog
For a quick and easy festive treat, try making a CBD-infused eggnog. That rich and creamy taste can offer some nice, gentle calming effects when you add some CBD oil.
Ingredients:
1-quart eggnog
3 droppers of CBD oil
Nutmeg for garnish
3 ounces of rum (optional)
Steps:
Pour the eggnog into a punchbowl.
Stir in the CBD oil thoroughly.
Add the rum if you wish to turn this into an alcoholic beverage.
Dust the top with nutmeg to taste.
Hemp Hot Chocolate
There is nothing like rich and sweet hot chocolate on a chilly night during the holiday season. That hot chocolate can be even more satisfying when you infuse it with CBD oil, as this recipe calls for.
Ingredients:
1 cup of milk (whole is preferred)
1 tbsp cocoa powder
1 tbsp sugar
1 tsp vanilla extract
-1 dropper of CBD oil
-Whipped cream
Steps:
Into a small saucepan, combine all of the ingredients except for the whipped cream.
Put the heat on medium and stir consistently until the milk is developing steam.
Pour into a cup, and top with the whipped cream.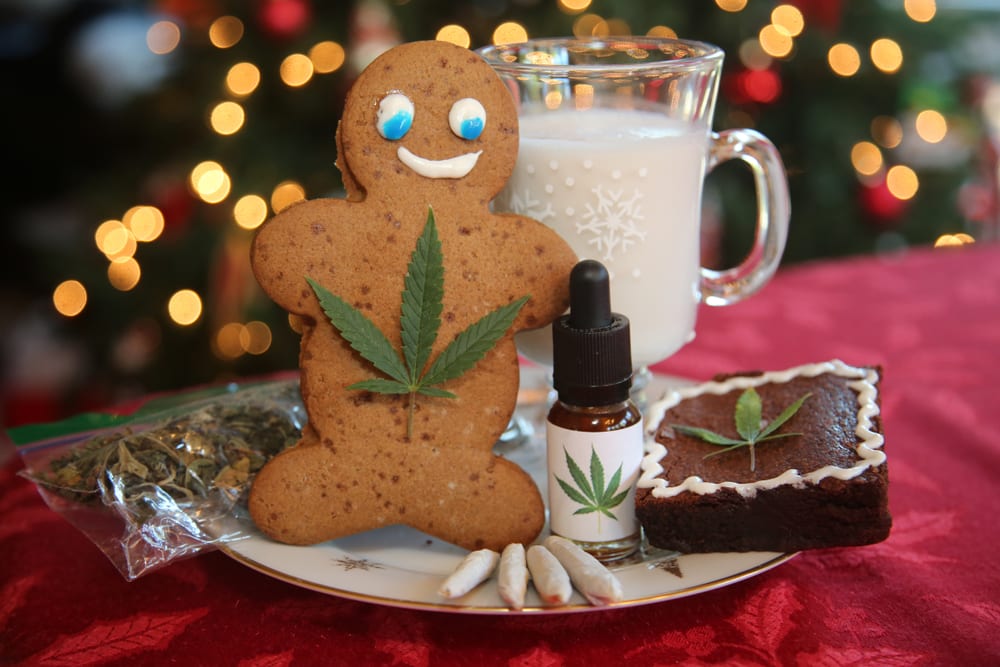 Cannabidiol-Infused No-Bake Gingerbread Balls
If you do not have time to bake this year, these no-bake gingerbread balls are a godsend. Also, each delicious morsel provides your body with cannabinoids and terpenes that can lift your spirits.
Steps:
1 cup raw almonds
1 cup rolled oats
1/2 cup coconut oil
1/2 cup maple syrup
1 tsp ground ginger
1 tsp cinnamon
1 tsp ground clove
1 tsp nutmeg
2 droppers of CBD oil
Ingredients:
Combine all of the ingredients into a food processor.
Pulse until the mixture comes together like cookie dough.
Remove from the processor.
Roll into balls about 1 inch across in diameter.
Chill and eat after an hour.
Advice: Keep them refrigerated when they're not being eaten.
CBD Cranberry Sauce
Cranberry sauce is always a welcome addition to any holiday dinner table, adding a seasonal element to a delicious meal. This cranberry sauce will certainly get you into the mood of the holidays with the perfect amount of CBD.
Ingredients:
4 cups raw or frozen cranberries
1 cup sugar
1 cup water
1 dropper of CBD oil
Steps:
Pour the cranberries, sugar, and water into a saucepan.
Put on high heat.
Once the mixture reaches a boil, bring it down to low heat.
Stir every few minutes to prevent the sugar from sticking to the pan.
When the mixture takes on the appearance of jam, you can remove it from the heat and pour it into a serving bowl.
Add the CBD oil and stir well.
Hemp-Glazed Nuts
Toasted, seasoned nuts offer a tasty treat that is perfect as an appetizer before a big holiday meal, or snacking while you wrap gifts. We have added hemp to our nut recipe to give it a nice boost of pure CBD goodness.
Ingredients:
1lb mixed nuts
1/2 cup brown sugar
2 tbsp dried rosemary
1 tsp paprika
1 tbsp salt
1 tbsp olive oil
1 dropper of CBD oil
Steps:
Place all of the ingredients into a mixing bowl and mix well with your hands or a spoon.
Line a baking sheet with parchment paper.
Preheat the oven to 250 degrees.
Spread the nut mixture evenly in one layer on the baking sheet.
Bake for 10 minutes.
Allow it to cool and serve in a bowl for snacking.