There is no doubt that some of the best-selling products at Pure CBD Now come from IHL CBD who has given us a wide array of inhalable hemp formulas including the extremely popular Palm Treez line of delta 8 goods. This brand has also recently introduced additional delivery methods into their lineup that are proving to be just as successful. So, if you're struggling to pick just one formula from the brand to try, allow us to help!
First, About IHL CBD
IHL CBD initially hit the ground running with exceptionally crafted CBD hash for those looking for a more concentrated type of hemp experience. They have since expanded their product line while still holding the same principles when it comes to quality, purity and clean, minimal ingredients, all while maintaining third-party testing across all of their many celebrated products.
Dabbing delta 8 introduces extremely concentrated servings of the cannabinoid into the system of the user, making them great for those who are experienced and have a tolerance to the compound's effects, and crave something a bit stronger. A Palm Treez Delta 8 Dab Syringe makes it easy to apply your dabs to your nail, banger of dabbing chamber, with a mess-free approach in the form of a user-friendly syringe. It comes in three individual strains, with phenomenal purity levels and no added ingredients. Note that this product is not for delta 8 beginners.
Choose Palm Treez Delta 8 Dab Syringe Because…
No added ingredients
Indica, sativa, and hybrid available
Highly potent
Mess-free approach to dabbing
Stunning purity levels
IHL CBD's Vape Oil comes in a 20ml bottle with a dropper cap, making it an e-liquid that can be used with any refillable vaping setup for more control over your general vaping experience. Each bottle contains 400mg of pure hemp extract, which comes in 5 different strain/flavor options from which you can choose to satisfy your most detailed preferences. Meanwhile, the overall formula is free of unnecessary additives and fillers.
Choose IHL CBD Vape Oil (Lush / Sativa / Dream / Relax / Bliss) Because…
Great strain/flavor selection
400mg per 20ml bottle
Free of unnecessary fillers and additives
Perfect for those with refillable vaping systems
Fast-acting due to the nature of inhalation
Palm Treez Delta 8 Sour Gummy Bears are a great alternative method for exploring the properties of delta-8. When ingested, the effects are longer-lasting and produce more of a "body high" that's widely regarded as enjoyable. The sour fruity flavor is absolutely intoxicating to the taste buds while the formula is clean and gentle on the body. Each bear in this 10-count pouch contains 15 milligrams of pure delta 8 THC distillate.
Choose Palm Treez Delta 8 Sour Gummy Bears Because…
15mg per gummy
Great sour fruity flavor
Long-lasting effects
Great alternative to vaping delta 8
Airtight pouch for freshness
Smoking hash offers a totally new way to experience the properties of hemp, which are more concentrated while retaining their pure and natural quality due to a unique pressing technique that has been employed for centuries. The result is powerful flavor and a sticky black consistency. This hash comes in a wide array of popular strains, with a 20% CBD level while being a totally full spectrum product. Plus, they use CO2 extraction and heating is never involved with the process.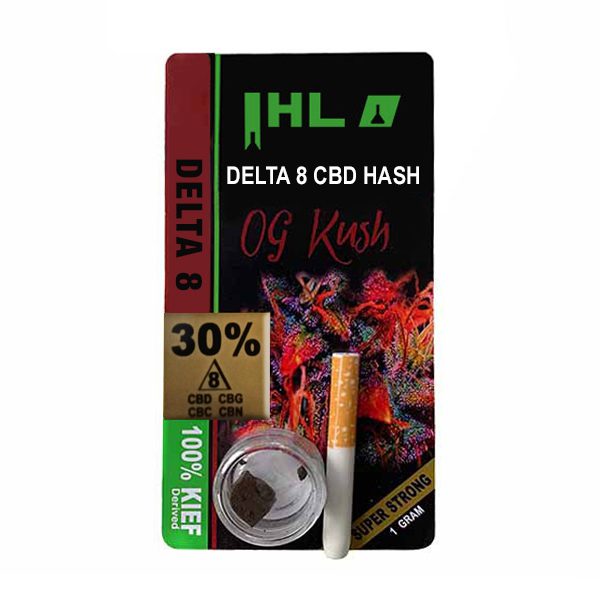 Choose IHL CBD Hash Sativa Black Hash (OG Kush / Sour Diesel / Super Lemon / Blueberry / Mango Kush / Natural) Because…
Highly potent
Variety of popular strains
Naturally produced
Strong flavor
20% CBD
A best seller at Pure CBD Now, and it is no wonder why. This 510-compatible vape cart contains 900mg total of nothing but pure, clean hemp compounds with no added ingredients. It's a broad spectrum delta 8 extract that comes in three popular strain choices (Lemon Pound Cake – Sativa, Runtz – Indica, and Strawnana – Hybrid) based on your unique needs. The ceramic core ensures excellent flavor and smoothness of vapor, while a ceramic mouthpiece, as both are Made in the USA, feels comfortable against the lips.
Choose Palm Treez Delta 8 Vape Cartridge Because…
900mg of hemp
Great strain selection
Ceramic technology for improved performance and flavor
510-threaded
No added ingredients
Enjoy These Stellar IHL Products at Pure CBD Now!
Here at Pure CBD Now, you can find these IHL products and more to satisfy your most precise hemp-related needs. Whether you're a fan of CBD or delta 8 THC, all of their products are lab-tested and held to high quality standards to guarantee maximum customer satisfaction.