Delta 8 Factory was one of the first brands to embrace delta 8 THC as a meaningful component to one's daily hemp routine. They quickly got to work developing a generous lineup of formulas that allow us to develop delta 8 regimens fully catered to our most precise goals and preferences. From concentrated delta 8 syringes to delicious gummies, they have got it all. So, we'll be going over the best of the best from this brand available at Pure CBD Now.
First, About Delta 8 Factory
Delta 8 Factory has quickly become one of the most sought-after brands for all delta 8-related needs, with a rich array of formulas and delivery methods consisting of some of the finest, purest lab-tested delta 8 THC distillate on the market, blended carefully with thoughtfully sourced ingredients to ensure gentle formulas with active levels of this highly unique cannabinoid. This brand maintains integrity through everything they do. From sourcing their organic hemp plant material to developing formulas with a wide range of customer needs in mind. The result is a lineup that offers something to every delta 8 enthusiast.
For advanced delta-8 enthusiasts, there is this dab syringe that contains 900mg of delta 8 THC per piece for maximum potency of effects. Most commonly used as a dab, it offers a clean approach to vaporizing a highly concentrated form of the cannabinoid, which is why beginners should wait to use this product until they have built up a tolerance to the compound's effects. The product is also extremely versatile, as it can be incorporated into various formulas to elevate the potency of delta 8. Better yet, it comes in a rich array of strains to help you zero in on specific effects associated with the terpenes and cannabinoids that exist alongside delta 8 THC.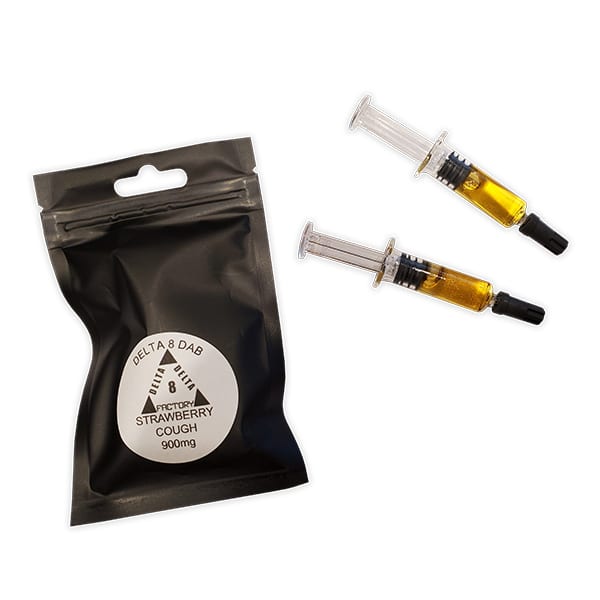 Choose D8 Factory Delta 8 Dab Syringe 900mg Because…
Full spectrum
High potency of 900mg
Huge strain selection
Versatile
Mess-free
Speaking of high potency, D8 Factory's Delta 8 Shatter is another concentrate for the daily dabbing needs of advanced, experienced enthusiasts. With 900mg per jar, this shatter offers phenomenally high concentration that is naturally more potent than wax, while still retaining the complex flavor of the plant that you know and love. Available in both Blue Dream and Wedding Cookies strains, it is a naturally full spectrum product that will give you stronger results than non-concentrated products on the market.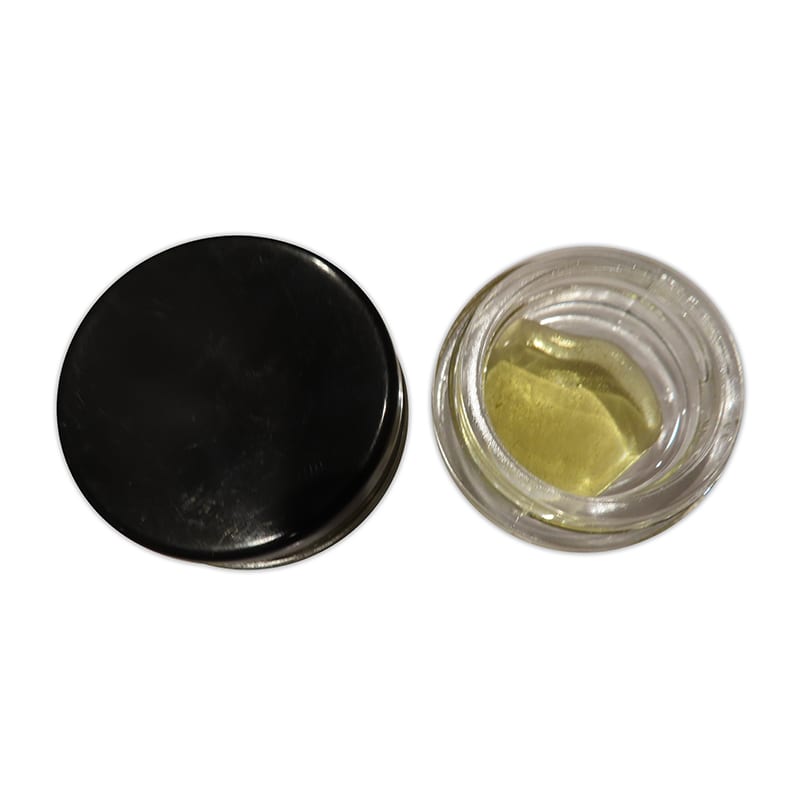 Choose D8 Factory Delta 8 Shatter 900mg 1gram Because…
Full spectrum
Powerful 900mg strength
Great alternative to wax
Two strain options
No additives
Are you looking for a discreet, portable, and user-friendly way to smoke delta 8 throughout the day? If so the D8 Factory CBG Delta 8 Hemparettes are what you need. These hemp-filled cigarettes are tobacco and nicotine-free, offering uniquely high levels of delta 8 THC and cannabigerol (CBG) in addition to raw CBD flower rich in a diverse array of desirable compounds. With 20 to a pack, and 50mg per hemparette, you'll be giving your body the perfect amount to get you through the day, while also enjoying the convenience of their travel-friendly nature.
Choose D8 Factory CBG Delta 8 Hemparettes 1000mg Pack Because…
No additives
Potent levels of delta 8 and CBG
Full spectrum
Travel-friendly and discreet
Variety of strains available
Tired of grinding up your buds by hand just to enjoy a quick session? D8 Factory CBG Delta 8 Preroll Mix offers pre-ground premium, top-shelf flower that boasts elevated levels of both delta 8 THC and CBG, in order to provide you with a full spectrum smoke that does not require nearly as much effort. These buds are fresh and full of flavor, and have the ideal grind for rolling into papers. Although, they are equally useful for vaping, smoking in a pipe or even turning into edibles. Each pouch offers a 1:1 delta 8 to CBG ratio and comes in a generous variety of popular strains (Apple Jacks, Blue Dream, Bubble Gum, Grape Ape, Wedding Cookies, and Mystery).
Choose D8 Factory CBG Delta 8 Preroll Mix 1oz Because…
Pre-ground for your convenience
1:1 delta 8 to CBG ratio
Generous strain variety
Always fresh and flavorful
Versatile
Anyone out there seeking out a more user-friendly way to vape delta 8 THC, then these disposables are the way to go. They require zero charging, refilling or assembly, and can be enjoyed straight out of the packaging, while boasting phenomenal purity levels and an ultra-clean formula. Each disposable contains a generous amount of delta 8 e-liquid, which comes in a rich variety of popular strains (Apple Jacks, Bubble Gum OG, Grape Ape, Jet Fuel, Mimosa, and Wedding Cookies).
Choose D8 Factory Delta 8 Disposable Vape Pens Because…
User-friendly
Pocket-friendly
No charging necessary
Excellent strain variety
Additive-free
Have you been eager to give delta-10 a try? If so, their Delta 10 Vape Cartridge is an excellent way to go. Each 1ml cart contains full spectrum hemp extract free of additives and fillers, with an active amount of pure, lab-tested delta 10 THC extract to introduce you to this cannabinoid's unique effects in a manageable but noticeable way. Compatible with your favorite 510-threaded vape pen device, these cartridges come in an abundance of strains (Blue Dream, Srawnana, Green Crack, Sour Diesel).
Choose Delta 10 Vape Cartridge Full Spectrum 1ml Because…
Additive-free
Great selection of strains
Active levels of delta 10 THC
Full spectrum
Easy to use
Hemp purists love nothing more than fresh flower buds bursting with natural terpene flavor and unprocessed cannabinoids in abundance. D8 Factory's Delta 8 Infused Flowers take organic hemp buds and infuse them with pure delta 8 THC distillate. They are available in a generous variety of strains (Apple Jacks, Blue Dream, Bubble Gum OG, Gorilla Glue, Grape Ape, Lemon Pound Cake, Pineapple Express, Pink Cookies, Tangie Sunrise, Tropical Skittlz, and Wedding Cake) and two size options from which you can select from based on your personal needs. Their flower is extremely fresh, and that is apparent once you smell it, In fact, this flower can be applied to smoking, vaping, or even making edibles based on the desires you have pertaining to how you consume hemp daily.
Choose D8 Factory Delta 8 Infused Flowers Because…
Infused with lab-tested delta 8 THC
Naturally, full spectrum
Highly versatile
Excellent selection of strains
Shipped fresh for maximum impact
What are moon rocks, you ask? Well, you take the raw buds of the hemp plant and infuse them with pure delta 8 THC distillate before rolling them in kief to enhance the potency of the cannabinoids and terpenes that naturally occur in the plant material. This allows for enhanced concentrations of desirable compounds. Not to mention, an active serving of delta 8, all while giving you the advantages of unprocessed, raw hemp in its natural form. Currently available in two popular strains (Slurricane Indica and Blue Dream), these 1gm or 3.5gm moon rocks are a great way to take your flower routine to new heights.
Choose D8 Factory Delta 8 Moon Rocks Because…
Rolled in kief for enhanced potency
Rich in delta 8 THC
Numerous strains available
Fresh and flavorful
Free of additives
Consuming delta 8 in the form of an edible offers an entirely new experience that lasts longer and offers more balanced effects between the body and mind. These delta 8 gummies are simply sublime in quality and flavor, being uniquely delicious while having clean ingredients that are gentle on the body. Each gummy boasts 10 milligrams of pure delta 8 THC distillate, making it easier than ever to find a place for delta-8 in your daily routine.
Choose D8 Factory Delta 8 Gummies Because…
Longer-lasting effects
Delicious flavor
10mg delta 8 per piece
Distinctive "body high" sensation
Easy to take
Easily, the top-selling product from Delta 8 Factory is their signature delta-8 cartridge. These are conveniently 510-threaded compatible and available in six strains (Apple Jacks, Blue Dream, Bubble Gum OG, Grape Ape, Jet Fuel, and Wedding Cookies) that many of us know and love. With this additive-free formula, you'll be giving your body the perfect amount of delta 8 THC per puff, alongside terpenes that enhance the properties that you experience.
Choose D8 Factory Delta 8 Vape Cartridge 1000mg Because…
1000mg per cartridge
Enhanced with terpenes
Wide array of strain options
Free of additives
User-friendly
The Perfect "Factory" For All Your Delta 8 THC Needs!
Delta 8 Factory has gone above and beyond to introduce delta THC to the masses with a huge variety of thoughtfully formulated products, and you can find all of the above and more at Pure CBD Now. Check out this selection that we carry today in order to experience delta8's unique properties like never before.