Hempzilla is a leader in the hemp industry, known for their strict quality standards and advanced, imaginative products that satisfy on a multitude of levels. Uncage the natural powers of full spectrum CBD, as this company's growing reputation for flavor and quality allows them to tame the beast in the CBD marketplace.
First, About Hempzilla CBD
One of the most forward-thinking CBD companies on the market is Hempzilla, with their innovative products that go above and beyond to satisfy customers' needs. With so many different formulas to choose from, the brand has proven that they can do it all, from topicals to tinctures and everything in between. Their use of natural ingredients and non-GMO, organic and locally sourced hemp has earned them a place at the top of everyone's list of CBD companies to try.
Nothing feels as good after a long day as a long soak in a hot tub. You can enhance that bath experience further with the Hempzilla Lilac CBD Bath Soak Jar, which comes in two sizes each containing a soothing blend with a fresh lilac aroma to invigorate your imagination and help you feel more at ease. Just put a single scoop into your tub and allow it to dissolve to infuse the bath with cannabidiol extract and other nourishing ingredients that absorb easily through the skin from head to toe. It's a great alternative to topicals that can make your everyday routine more luxurious.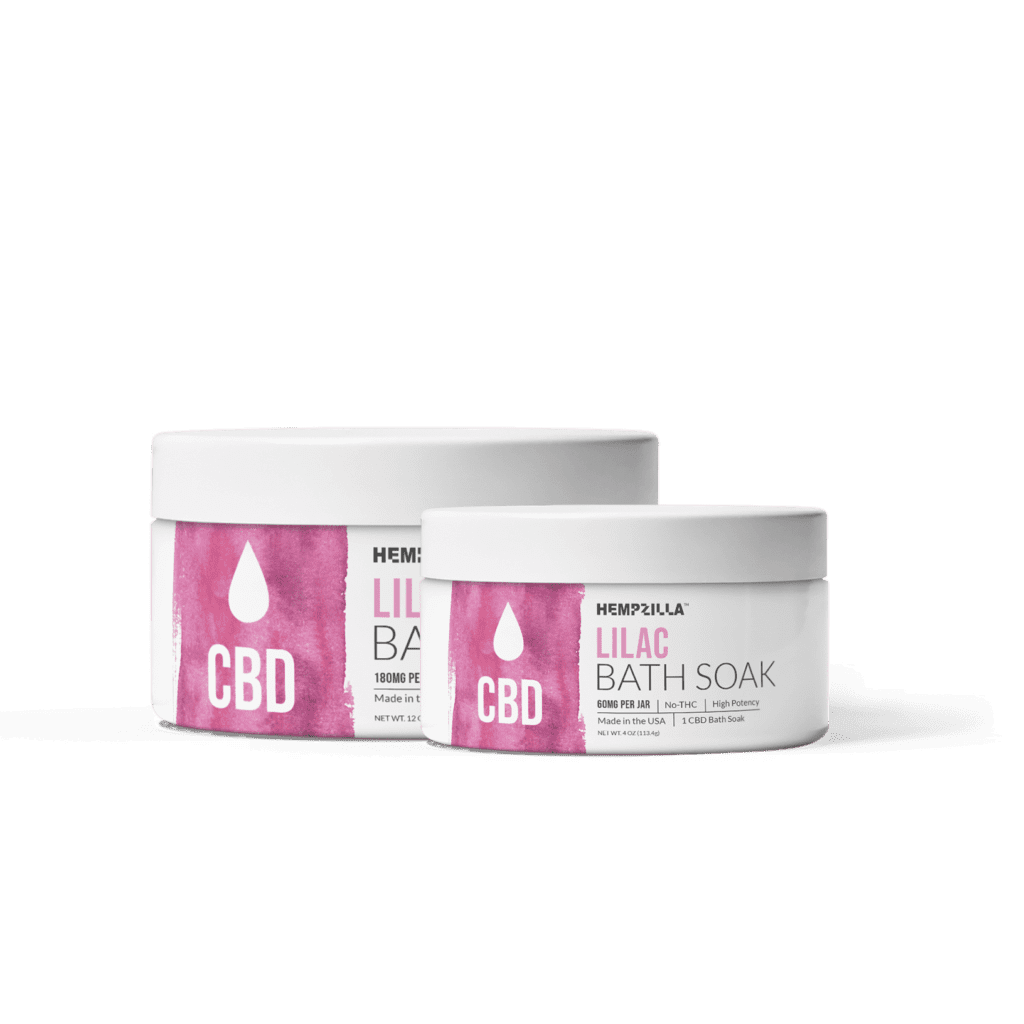 Choose Hempzilla Lilac CBD Bath Soak Jar Because…
Natural, plant-based ingredients
Great for sensitive skin
CBD extract that absorbs into the muscles
Glorious lilac scent
Perfect for your bath ritual
Hempzilla has given us a generous variety of CBD flower products to choose from to enjoy the hemp plant in its most raw and unadulterated state. We love their Lifter jar, which boasts a sativa strain that really lives up to its name without the psychoactive properties that so many of us wish to avoid. With a 21.02% CBD concentration naturally in the plant's chemical composition, it offers a generous amount of cannabidiol within a full spectrum experience. Try it in a pipe, papers, a vaporizer or even your favorite recipe – the possibilities are endless.
Choose Hempzilla CBD Flower – Lifter 21.02% Because…
Versatile for different applications
Raw, pure and additive-free
Unique sativa strain
Fresh and bursting with terpene flavor
Resealable jar
If you crave the idea of vaping delta 8 THC but don't want to deal with cartridges and recharging a device, this delta 8 disposable is a great alternative. Contains 250 milligrams of delta 8 THC plus terpenes and comes in a huge variety of strains so that you can really customize your experience. The battery never needs to be recharged, and once the e-liquid runs out, you can replace the entire device – it is really that simple.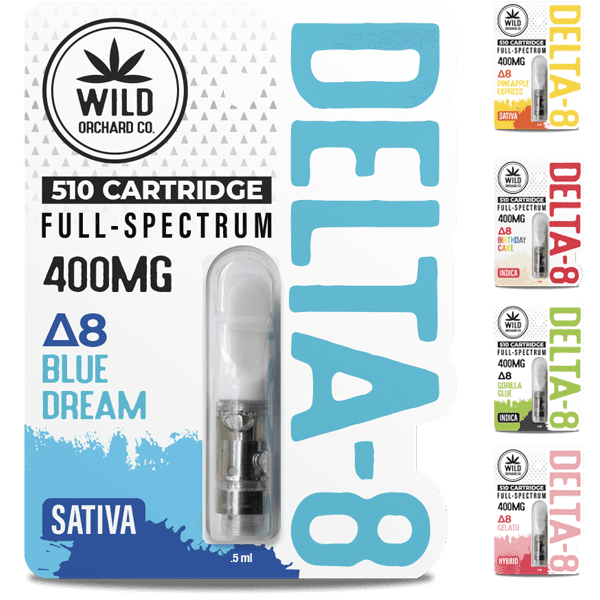 Choose Wild Orchard Delta-8 Disposable Vape Pen 250mg Because…
250mg per device
Variety of strains available
Maintenance-free
Ready to go right out of the box
Pocket-friendly
Hempzilla's Gel Roll-On is one of the most advanced on today's market, combining 100mg of hemp extract per ounce with the cooling and soothing power of icy menthol to get deep into the tissue of the joints and muscles within minutes, while the cannabinoids work hard to provide support. This gel formula is water-based so that it doesn't leave behind a greasy residue, and so that it moves through the skin more quickly. The roll-on applicator makes it a travel-friendly option to take with you to the gym or work.
Choose Hempzilla CBD Joint and Muscle Gel Roll-On 1oz 100mg or 4oz 300mg Because…
Travel-friendly roll-on
Fast-absorbing gel formula
100mg CBD per ounce
Two sizes
Enhanced with cooling menthol
Hempzilla's Pre-Roll CBG Flower offers a high-CBG strain surrounded by a multitude of useful cannabinoids and terpenes, already rolled up for your convenience. This 100mg pre-roll can be smoked easily as no preparation is required. Plus, flower buds are raw, unprocessed, organic, and free of any added ingredients for an experience that is as pure as it gets. Pre-Roll is travel-friendly and acts as a great way to enjoy some high-quality flower at any time of day.
Choose Hempzilla Pre-Roll CBG Flower 100mg Because…
Raw flower with no additives
High CBG strain
100mg per pre-roll
No preparation required
Travel-friendly
Hempzilla has introduced all kinds of ways to experience their quality flower, and we enjoy their CBD Hemp Cigarettes. These cigarettes are nicotine and tobacco-free, containing only raw, pure flower that's been already ground up so that you can just take one out of the pack and enjoy it as you so desire. These CBD cigs are filtered so that you can enjoy smooth draws of smoke without getting bits of flower in your mouth. American grown, pesticide-free, non-GMO, hand-trimmed, and slow-cured- experience the Hempzilla difference today!
Choose Hempzilla CBD Hemp Cigarettes (20 per Pack) 1000mg Total Because…
Conveniently pre-rolled
50mg per cigarette
Naturally, full spectrum
Raw, pure flower
Alternative to cigarettes
Wild Orchid's Delta-8 Hemp Pre-Roll consists of raw delta8-infused CBD flower for a full spectrum experience complete with mild intoxicating effects of the delta 8 THC. Conveniently pre-rolled, it's ready to go out of its packaging, requiring no preparation of any kind. Choose your strain based on your specific flower goals and savor each tasty hit. There are also NO added ingredients in it to disrupt the excellent purity levels that you get with the raw, whole buds of the hemp plant. In a way, it offers a feeling of balance thanks to the presence of other hemp cannabinoids in the flower.
Choose Wild Orchid Delta-8 Hemp Pre-Roll Because…
Raw, pure flower
Enhanced with delta 8 THC
Conveniently pre-rolled
Sativa and indica available
Travel-friendly
If you'd rather explore the properties of delta 8 in the form of gummies, Wild Orchid Full-Spectrum Delta-8 Gummies provide one of the best formulas there is, consisting of absolutely mouthwatering gummies infused with pure delta 8 THC distillate per piece. Each pack contains a mixed variety of flavors, all naturally derived. The delta-8 comes from organic, non-GMO hemp while the overall formula is clean in terms of its ingredients.
Choose Wild Orchid Full-Spectrum Delta-8 Gummy Mixed Pack 500mg (20 Ct) Because…
Exceptional variety of flavors in each pack
20 pieces per pouch
Clean ingredients
Organic & non-GMO hemp
Made in the USA
Hempzilla's disposable cartridge is pre-filled with CBD e-liquid that boasts a specific balance of cannabinoids and terpenes to promote feelings of bliss and ease. This cartridge attaches to any 510-threaded vape pen device for a smooth and satisfying vape that can be enjoyed at home or on the go. Choose between the two milligram strength options based on your daily vaping needs and enjoy this ultra-clean formula.
Choose Hempzilla CBD Vape Cartridge – Balance 150mg and 300mg Because…
Distinctive cannabinoid and terpene profile for maximum balance
Clean formula
Easy to use
Portable
THC-Free
Are you looking for a low-dose CBD gummy that packs a ton of sour-fruity splendor? Good, because we cannot get enough of Hempzilla CBD Sour Gummies. These are some of the tastiest and high in quality gummies on the market today. Each gummy contains 10 milligrams of hemp extract derived from organically grown, domestically sourced hemp plant material. Thar sour fruity flavor is absolutely irresistible, and their long-lasting effects can get you through your busy day.
Choose Hempzilla CBD Sour Gummies Because…
Low CBD milligram strength per piece
Sweet n' sour fruity flavor
Organic, locally sourced hemp
Easy to take
Two size options available
Hempzilla: The True Hemp Monster of Our Industry!
Hempzilla CBD is one of the most sought-after hemp brands in the industry, and now you can see why. So, what are you waiting for? Check out these awesome products and more at Pure CBD Now to build a hemp-basesd routine on your terms with this company's stellar formulations.