CBD usage is on the rise nationwide, and with good reason. While for many years CBD was buried beneath the taboo of criminalized THC, relaxed legislation and total recreational legalization in some states have paved the way for CBD to become mainstream, allowing the benefits of CBD to be enjoyed by all persons of legal age.

However, keeping up with all of the trends, changes, and product developments coming out of such an innovative and fast-paced industry can be challenging, to say the least. Here at Pure CBD Now, we're not just an online emporium for all your favorite CBD products like vape oil pens, tanks, and cartridges, we're also a group of people committed to helping consumers understand the products and industry that they use to live in wellness.

Below, we'll take you through the major categories of CBD deliverables — or the different styles and ways that you can consume CBD. Keep in mind that the industry is changing every day, so new additions to these categories are likely.
What is CBD?
Before diving into the different types of CBD deliverables you can find in stores and online, let's take a quick recap of what CBD actually is.

The letters CBD stand for cannabidiol which is a type of cannabinoid — an organic chemical that acts on receptors in the body's endocannabinoid system. CBD is one of many different cannabinoids, one of which is very famous and controversial: THC. Unlike THC, CBD does not get you high. It does, however, impact your endocannabinoid system, or ECS.

Hemp CBD vs. Marijuana CBD
CBD can come in various forms and can be derived from either the hemp or the marijuana plant. Hemp-based CBD will contain .3% THC or less and is legal in 47 of the 50 United States. This level of THC is not enough to induce a feeling of being "high" or trigger any of the psychoactive effects commonly associated with THC. It is however enough to show up on certain kinds of drug tests. If you are at all concerned with the level of THC in your CBD products, then simply make sure to shop CBD isolate products and broad-spectrum oils, both of which are completely THC-free. The products featured and sold on our site are manufactured by companies that use hemp for their CBD products.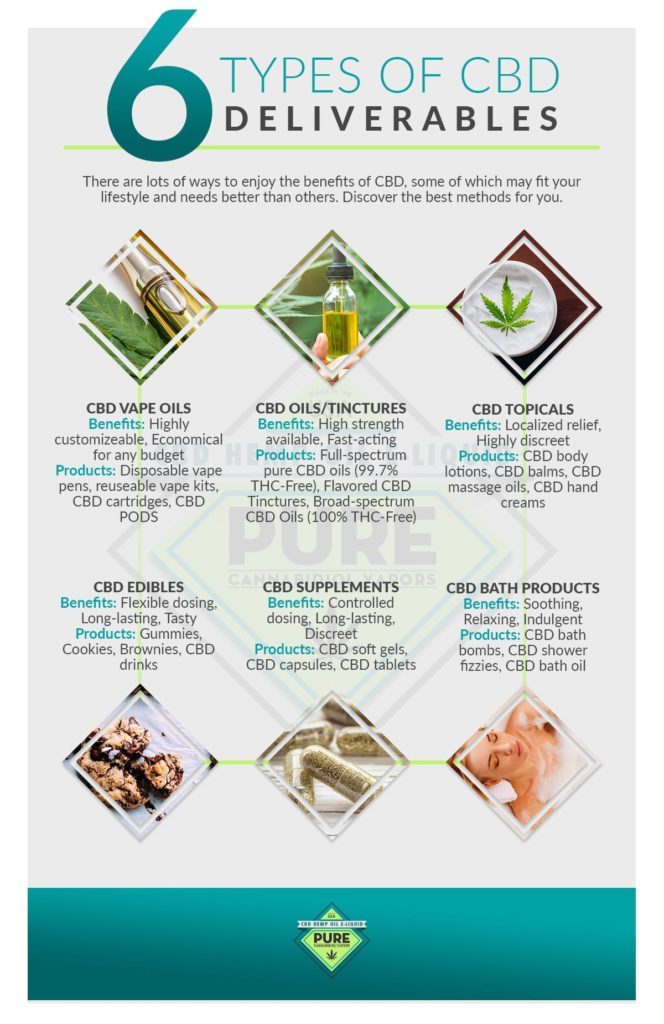 Full-Spectrum CBD vs. CBD Isolate
You will find two different types of CBD products wherever you go. Full-spectrum CBD is derived more naturally, drawing CBD from the hemp plant along with all of the other cannabinoids, terpenes, and other organic elements. By contrast, CBD isolates extract the absolute purest amount of CBD available from what comes out of the hemp plant.

CBD products of the full-spectrum variety can also come in a couple of subcategories.
Broad-spectrum CBD products are almost the same as full-spectrum CBD products. The only difference is that broad-spectrum CBD, while leaving almost all of the other naturally occurring cannabinoids and terpenes in hemp, has eliminated the THC entirely. Nano CBD is actually modified to reduce the size of the CBD molecules and is often used to quicken the working pace of creams, lotions, and other transdermal CBD products that are applied topically to the skin.

To provide you with whatever benefit of CBD you are looking for, CBD products come in a plethora of styles, types, and strengths. Shop online at PURE CBD Vapors to find what you're looking for, or continue reading to discover more about the many variations of CBD deliverables.

CBD Vape Oils
CBD vape oils are a very specific type of CBD oil engineered specifically for consumption in vapor form. It is important to note that not all CBD oils should be consumed this way.

CBD vaping has grown in popularity more so than any other type of CBD deliverable over the last few years. Aside from the great vaping wave that also overtook the nicotine market possibly translating over the CBD consumables, proponents of CBD oil vaping cite enjoyability, experience, convenience, and product reliability as some of the reasons why they choose to vape CBD oil.

Available in both disposable-style CBD vape pens and refillable, rechargeable CBD kits or "rigs", you can choose whatever works best for you based on how often you use your CBD vape oil. Recently, Pure CBD Now even added a JUUL-compatible line of CBD vape oil pods. Another benefit of CBD vape oil is that cartridges and pods come in a wide variety of strengths, naturally occurring flavors, and volumes, so it's easy to customize your CBD vape oil kit to meet your needs.
CBD Oil and CBD Tinctures
CBD oil and CBD tinctures are the most popular types of CBD consumption. With a fast-acting delivery under the tongue, CBD oils may not taste great to everyone, but they offer a lot of benefits.

As mentioned above, CBD oil, when used sublingually, is very fast-acting. When taken this way, CBD is absorbed into the body through the palate and it makes its way to the ECS receptors in your brain in short order.

CBD oils are more likely to be full-spectrum or broad-spectrum — a subcategory of cull-spectrum oils where all cannabinoids except for THC are left in the final product — allowing you access to the "entourage effect" — the combined positive benefits of all the various cannabinoids found in hemp working together. Additionally, CBD oils that are not intended for vaping are food-grade, meaning that they can be added to a meal or drink if you're looking to cover up a perceived unpleasant taste. It is, however, important to note that many people select their CBD oils based on the flavors of their naturally occurring terpenes and really enjoy the wide range of flavors that are available.

If taste has you concerned, then CBD tinctures might be a good alternative. Tinctures contain CBD oil that has been mixed with other food-grade additives and flavorings to produce a tasty combination that can't be mimicked using hemp's naturally occurring terpenes. Some popular flavors include mint, chocolate, and various other candy flavors.

CBD Topicals
When taking CBD by mouth, such as in the case of vaping, dropping, or consuming an edible or beverage, the CBD enters your body and will spread its effects throughout your body. CBD topicals work the opposite way by providing localized, pinpoint CBD to the ECS receptors in your skin.

Topicals come in a variety of forms, including balms, creams, lotions, and massage oils. Application is easy and can be targeted directly at sore muscles or stiff joints to help reduce discomfort and cellular disruption. CBD topicals come in a wide range of strengths, making them perfect for combating your manifestations at whatever level you find them at.

Regular users of CBD topicals generally love that they have so many benefits. One of the most commonly cited benefit is that CBD topicals are discreet. Whether it is a CBD lotion used during the day at work or a CBD foot balm that sits on the bathroom vanity while the inlaws are visiting, these products look like and are often labeled just like everyday personal care products, which they are. However, they can help you avoid looks and questions from people who don't really know what CBD is or how it works.

Best of all, topicals are easy to use, feel good to apply, and have a long-lasting duration.
CBD Edibles
Wellness-grade CBD can be used to create an assortment of tasty CBD edible treats that range from beverages to gummies to homestyle cookies and brownies. You can even find CBD edibles for your pets.

Most often associated with THC usage, edibles are a great way to enjoy the benefits of CBD. Easy to use, perfectly discreet, and best of all, delicious! No matter what your stomach is in the mood for, there's a pretty good chance that you can find a quality CBD edible to cross two items off your list at once.

CBD edibles are popular with people who like to have a tightly controlled dose of CBD and who enjoy long-lasting effects. Since edibles are digested and absorbed into your stomach and intestines, CBD edibles take a bit longer than most of the other delivery methods to take effect, however, they also tend to last the longest amount of time.

Gummies, cookies, hard candy, brownies, and chocolate bars are the most common kinds of CBD edibles you will find, but some companies also make drinks and even a powder that can be added to any kind of food or drink.

CBD edibles can also be purchased for your pets. However, at Pure CBD Now, we love our furry friends, so make sure that you're careful about what you give them. Most CBD products that are for human use are not intended for pets and shouldn't be given to them. CBD products with chocolate and the elements it takes to create the gelatin in gummies can be dangerous for your pets to ingest. When purchasing CBD products for your pets, make sure to buy only CBD products that have specifically designed for your dog or cat.
CBD Capsules
Technically a form of edibles, CBD capsules — sometimes referred to as CBD supplements — another popular way to orally ingest CBD as a part of a normal daily routine.

Many people already take some sort of vitamin as a part of their morning routine, so adding your CBD in at that time makes great sense. CBD capsules are available in a wide range of strengths, bottle volumes, and brands. If you want to be able to take your CBD as a regimented daily dosage, then CBD capsules very well maybe your best option.

While we've only ever seen CBD supplements as capsules or soft-gels, don't be surprised to find tablets either. Like other CBD edible products, you can expect a slower effect that will outlast many other forms of CBD delivery, making CBD capsules popular with working professionals and people who spend a lot of time traveling.

CBD Bath Products
Earlier, we mentioned CBD topical products like balms, lotions, massage oils, and more, but we intentionally left CBD bath products off of that list. Why? While most CBD topicals provide the tangible benefit of delivering CBD directly to a localized area of ECS receptors, a CBD bath product, such as a bath bomb or bubble bath, will infuse the entire tub with CBD, providing a body-wide effect.

Tubs are already pretty relaxing, and everyone knows the benefits that cold and heat can have for muscles, cramps, fevers, and other aches and discomforts. But how good do they become when you add a high-quality CBD bath product to that water? There's only one way to find out.

CBD bath products also fall into a category of their own: CBD gifts. While buying your mom a CBD vape kit may come off as presumptive, she can probably get behind CBD bath bombs at the end of a tough work week or when working on overcoming the aches and discomforts that come with the flu. Gifts like these are a great way to help introduce a loved one to the many benefits of CBD while also offering them a thoughtful and useful present.
Find The Right CBD Deliverable For You Online at Pure CBD Now
At Pure CBD Now online, we have a wide array of CBD products, including a beautiful lineup of CBD vape oils, CBD vape oil kits, rechargeable vape kits, and disposable CBD pens and cartridges. We're the online resource you can trust for top-quality products and up-to-date information on what is going on in the fast-paced world of CBD. Shop online today to find what you're looking for and enjoy our everyday low pricing on some of the most popular brands in the CBD industry.