Hexahydrocannabinol (HHC) may still be a pretty new cannabinoid on the market, but already, it's become one of the most widely sought-after thanks to its fascinating effects that many say mirror those of delta 9 THC in multiple ways. One of the most popular ways to experience HHC is to vape it. This is all thanks to the potent bioavailability of this delivery method. For those who want the most low-maintenance option possible, HHC disposable/rechargeable vape pens are the way to go.
But, because some companies produce far higher-quality HHC disposables and rechargeables than others, it's important to pay attention to the retailer that you're buying from. Afterall, some types of retailers are more likely to deliver premium products than others.
What is an HHC Disposable/Rechargeable Vape Pen?
HHC disposable/rechargeable vape pens are all-in-one vape kits that never need to be put together or refilled with vape oil. They just contain pre-filled cartridges of HHC vape oil that are attached to a battery component.
Disposables have a one-use battery, intended to last for as long as it takes to get through the vape oil.
Rechargeables can be charged several times before the vape oil runs out, but once it does, they are disposed of.
Like all HHC-based vaping products, these vape pens come in a nice variety of strain options. Also, because they're vaping products, they provide a high bioavailability level which leads to fast-acting, potent effects within minutes. These tend to taper off though, after a couple of hours.
Where You Can Buy HHC Disposable/Rechargeable Vape Pens
Now that HHC vapes are becoming so popular, you're gonna notice them appearing in different retail locations in the coming months ahead. But, as we always know with hemp products, it's important to only select the most reputable sources possible.
#1: Convenience Stores
Avoid HHC sold in a convenience store if what you're searching for is premium quality. Why? Because these types of businesses aren't concerned with carrying the finest hexahydrocannabinol possible, but the cheapest. They're also not typically managed by people who know enough about hemp to choose the most trustworthy manufacturers for the products they carry.
#2: Vape Shops
Vape shops may offer some HHC products, especially now that demand is growing. Again, vape stores don't specialize in hemp, but instead, non-hemp vaping products. You will need to then be somewhat discerning by researching the brands that are being carried in a vape shop.
#3: Online Distributors
Online distributors are a great choice for your HHC vape pen needs. They specialize strictly in hemp products, and carry select products from a number of popular hemp brands.
Online hemp distributors are going to provide you with the largest variety of HHC disposable vape pens and rechargeable vape pens, from different brands and in a generous array of strain options.
Online distributors only carry hemp products and have no other source of revenue to rely on. This means that there is a strong incentive to carry only top-tier products made under the strictest quality standards, to ensure the highest customer satisfaction at all times.
#4: HHC Brands
Another choice is to buy HHC vapes from a manufacturer, by going to their website. This gives you the assurance that you're not buying a counterfeit product, and also lets you discover a lot about how a particular brand makes their HHC vaping products.
When looking for HHC disposable/rechargeable vape products, check out the listing of Pure CBD Now. They just might have what you are looking for.
HHC Disposable Vape Pens – Chooose this disposable vape pen to maintain that high without hampering your day to dse 275mg or 900mg as well as the strain to be added. Strains to choose from – Chunky Skunk, Mad Honey, Alien Piss, Venom Cocktail, and Butterfly Effect. This dispay activity.
Buying Your HHC Disposable and Rechargeable Vape Pens Online: Why It's the Better Option
Overall, you'll have a better experience by choosing an online retailer over a local store. Local stores simply don't see enough local demand to justify super-high standards, and further, they're rarely run by experts in the hemp field. Meanwhile, online hemp retailers offer:
Great Prices: Online companies can sell their products at better prices because they aren't stuck with extremely high overhead costs that come with running a physical store.
High Quality Standards: Like we said, online companies that exclusively sell hemp must work harder to maintains strict quality standards to ensure their business is successful, while competing in a very crowded online marketplace.
Deals and Bundles: A lot of online companies hold sales regularly, and they also offer bundles, which give you a lot of product at a discounted price.
Great Selection: Online retailers will give you a wide selection of HHC vape products to choose from you can find exactly the strain, size and other factors you're looking for.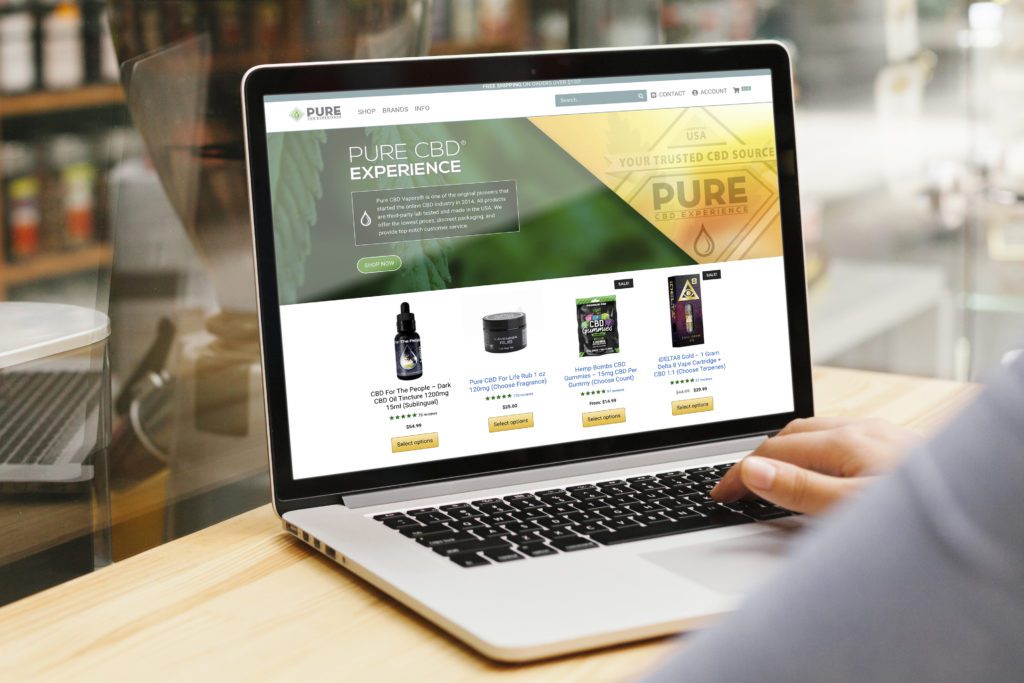 What to Look for in HHC Disposable/Rechargeable Vape Pens
No matter where you search for an HHC vaping device, you're going to want to pay attention to certain factors that relate to the quality of the product. This way, you will always be able to know that you are buying the best option available.
Third-Party Lab Reports: HHC products should always be thoroughly tested by a state-licensed third-party laboratory, and the lab reports should be easy to find on a company's website. This means that the hemp was proven to be pure, uncontaminated and legitimate.
Zero Added Ingredients: HHC vaping products should always contain two ingredients: unrefined 11-Nor-9β-hydroxyhexahydrocannabinol distillate, and terpene extracts. No other ingredients should be present, since they disrupt the purity. Avoid HHC vapes containing fillers, cutting agents, and preservatives. These also serve no purpose.
Freshness: With all hemp products, freshness matters. Once a product is no longer fresh, its effectiveness starts to deteriorate. A reputable retailer will have a high enough product turnover rate to ensure that HHC vapes are always sold fresh.
A Reputable Brand Name: It's important to research a company before buying from them, to make sure that they have positive reviews and good overall practices. A brand's reputation has a lot to do with whether or not their products are actually worth buying.
Federal Compliance: For an HHC vape pen to be sold legally (2018 Farm Bill), it must contain only hemp-derived compounds. Basically, marijuana is strictly illegal on a federal level. Also, these devices can contain no more than 0.3% delta 9 THC.
Get Your Hemp Vape On When Hitting HHC Disposable/Rechargeable Vape Pens Available at Pure CBD Now!
Pure CBD Now offers only premium HHC vaping products. We're just extremely discerning when it comes to the brands on the website. We only work with companies that use strict lab-testing protocol, top-notch extraction methods, and additive-free formulations. Pure CBD Now also knows that choosing a high-quality vape pen can be daunting, but by going with us, know that whichever HHC-infused product you end up deciding on is gonna give you that exceptional quality and potent bioavailability you so crave.