Thanks to a growing interest in tetrahydrocannabivarin (THCV), a minor cannabinoid in the hemp plant that offers mild psychoactive effects, we're seeing hemp companies produce all kinds of products that introduce the compound into the body through different means. One particularly popular option is THC-V gummies. These offer the longest-lasting effects out of any product type. As demand grows for gummies, we're seeing them pop up in all kinds of retailer environments nowadays.
But, the bottom line is that some types of retailers are more likely to give you top-shelf quality than others. It's important to be very careful about who you buy your gummies from. This of course, is to avoid ending up with a low-quality product, or even a fake.
What are THC-V Gummies?
THC-V gummies are the most popular form of edibles. They refer to fruity gummy treats that are infused with Δ9-Tetrahydrocannabivarin distillate. Gummies are extremely popular for a number of reasons. One is that they offer the longest-lasting effects, which can be felt for up to 8 hours. Edibles are also associated with the strongest body high effect out of any delivery method.
Gummies are very easy to portion out. How? Well, since each piece contains the same amount of the cannabinoid, allowing for a user-friendly and consistent routine. Besides that, gummies come in lots of exciting flavor options to choose from, as well as milligram strengths and formulas.
Where You Can Buy THC-V Gummies
THC-V gummies are slowly becoming a sought-after product on the hemp market. This basically means that they're slowly making their way into different types of retailers that carry hemp products. But, as is always the case with this industry, some types of businesses are more worthwhile than others if you want the best of the best THC-V possible.
#1: Convenience Stores
Some convenience stores may carry THC-V products, but this type of retailer is never a good option. Convenience stores don't have strict quality standards overall, as their priority is selling products cheaply and conveniently. Without a store owner who has expert knowledge of hemp, it's unlikely that they can even tell you whether or not their THC-V gummies have all of the factors that indicate premium quality and purity.
#2: Vape Shops
Vape shops sometimes carry certain types of hemp products, and may even offer THC-V gummies. Again, a vape shop isn't going to specialize strictly in hemp, and this means they may or may not have strict quality standards with the gummies they carry. It helps to research a brand found in a vape shop before buying to know whether or not their gummies are the real deal.
#3: Online Distributors
An online distributor is always the top choice if you're seeking out only the finest THC-V gummies possible. This is an online retailer that only carries hemp products from a multitude of popular brands.
An online distributor is your best chance for finding a wide selection of THC-V gummies in different strengths, flavors, formulas and more, to really customize your experience.
Online distributors only carry hemp, which means that if their hemp isn't top-quality, then they're going to go out of business. This is how you can feel confident that the THC-V gummies they sell are exceptionally pure and effective.
#4: THC-V Brands
You can also buy THC-V gummies directly from the website of a brand that produces them. This is helpful because it allows you to learn the most information about how the brand produces their products. It also guarantees authenticity.
Look no further for THC-V gummies, Pure CBD Now may have the one product suited to your taste and lifestyle. Choose one or two among the products that they have.
JGO Orange Creamsicle THC-V Gummy 750mg – This yummy orange flavor gummy is pack with 25mg with infused Delta YHC-V. Enjoy the orange flavor while experiencing a smooth buildup as you go along your day.
Koi THCV + ACV Gummies 200mg 20ct – Strawberry Acai Flavor – The acai added to this gummy is an anti oxidant giving more benefits. It also has apple cider which is beneficial to health. The delicious flavor packed with 10mg hemp-derived THC-V will let you experience one of the best perk up available.
JGO Permatrip Gummy 1500mg – contains 50mg Delta 8 per gummy. Convenient for usage when you are a busy body and need a boost for the day.
Buying Your THC-V Gummies Online: Why It's the Better Option
THC-V gummies are more likely to satisfy you if you get them from an online manufacturer. The bottom line is that local stores aren't specializing in hemp, and local demand is comparatively low, and so quality standards often leave something to be desired. Online retailers give you far more advantages overall.
Great Prices: Online stores aren't burdened with heavy overhead costs like physical stores, allowing them to offer their THC-V gummies at the best prices possible.
High Quality Standards: Like we said before, online stores tend to have higher quality standards since hemp is their only source of revenue. This is especially true as the online hemp marketplace becomes more competitive.
Deals and Bundles: Online stores tend to offer special offers, sales and other kinds of deals regularly. And, you'll likely come across bundles, which give you a larger amount of THC-V at a lower price per unit.
Great Selection: Online retailers often have a very large selection of products to choose from, so you can find the ideal gummy flavor, milligram strength and more to suit your needs.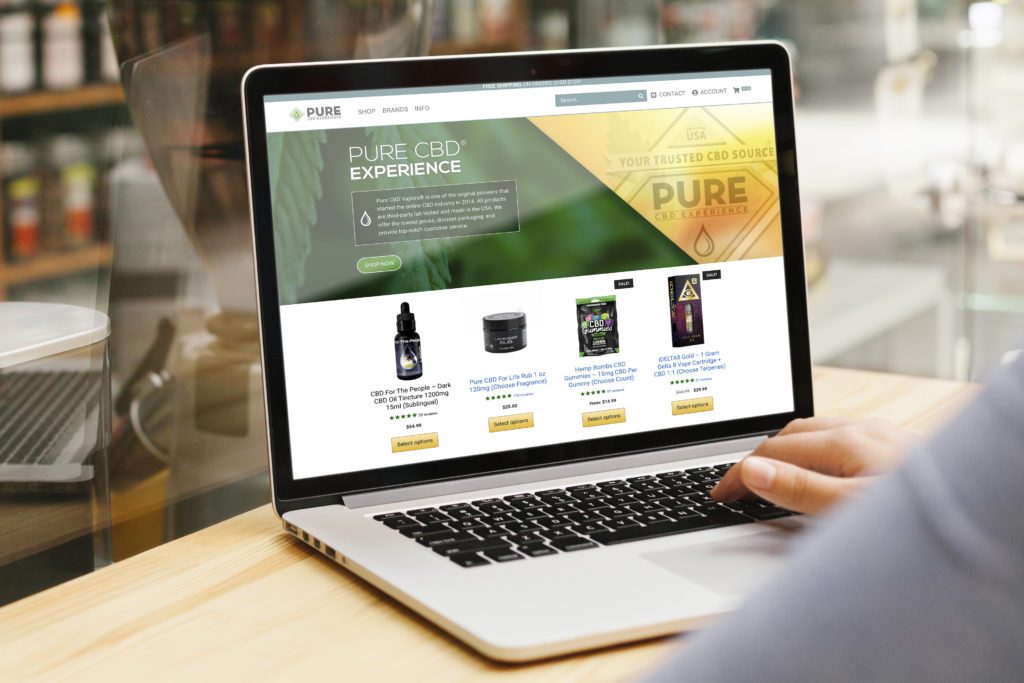 What to Look for in THC-V Gummies
In order to know you're getting the best of the best gummies on the market, there are some key things to pay attention to whenever you're shopping for THC-V in genereal.
Third-Party Lab Reports: THC-V products should always be thoroughly tested by a third-party laboratory. Not only that, but the lab reports are supposed to be easy to find on a company's website. This means that the THC-V was tested by a state-authorized lab for quality, purity and potency.
Clean Ingredients: THC-V gummies should contain clean, carefully sourced ingredients, and not be loaded with artificial fillers and additives that get in the way of the gentle nature of the product.
Freshness: All cannabinoids have a shelf life, after which they begin to break down and lose their effectiveness. To know that you have a fresh THC-V gummy product, buy from a reputable company that is going to have a fast product turnover rate.
A Reputable Brand Name: Always research a brand before buying them, to make sure that they have a solid reputation throughout the community of hemp enthusiasts. Read reviews to see what other customers have to say about their gummy products.
Federal Compliance: For tetrahydrocannabivarin to be legal (2018 Farm Bill), it must come from the hemp plant, as the marijuana plant remains federally illegal. And, it can contain no more than 0.3% delta 9 THC.
Get the Most Awesome and Tastiest THC-V Gummies by Choosing Pure CBD Now!
THC-V gummies, like all hemp products, can greatly range in quality. That's why it's so important to be very discerning when it comes to your source. The right THC-V gummies contain clean ingredients, lab-tested hemp, and high bioavailability derived from using only the finest techniques available to manufacturers. At Pure CBD Now, you can count on our THC-V gummies checking all of the boxes. We have strict quality standards that're unparalleled. You can simply enjoy a wide selection of gummies that all contain lab-tested tetrahydrocannabivarin and fresh, high-quality ingredients.