Delta 8 THC is a cannabinoid that has piqued the interest of Nebraskans who have recognized the value of the hemp plant since CBD first become a buzzworthy derivative. Because delta 8, unlike CBD, has mild psychoactive properties, it's understandable that many of those citizens living in Nebraska aren't sure whether or not the compound is actually legal in their state, let alone where they can buy strictly authentic delta-8 products.
How is Delta 8 THC Different from Delta 9 THC?
Delta 8 THC is a cannabinoid that's often compared and contrasted to delta 9 THC, and for good reasons.
Delta 8 THC is a unique cannabinoid in that it results from oxidized delta 9 THC. As delta 9 ages in the plant's structure, it naturally converts into delta 8, which offers about 30% less psychoactive activity to create a milder high.
How they double bond in each of their structures can also differ, as delta 8 is double bond on the 8th carbon atom, while delta 9 has a double bond on its 9th chain. With its different double bond location, delta-8 binds to the endocannabinoid system (ECS) uniquely, so it's less potent than delta-9.
Delta 8 enthusiasts describe the high as bliss-inducing, blissful, and capable of keeping the mind relatively clear compared to delta 9.
Delta-8 has a strong affinity for CB1 receptors in the nervous system, which explains many of its unique effects.
Is Delta 8 THC Legal in Nebraska?
Delta 8 THC is recognized as a legal cannabinoid throughout Nebraska. This comes from the state's adoption of the 2018 Farm Bill that federally legalized all hemp products containing no more than 0.3% delta 9 THC. Under federal law, all delta 8 products are legal. Regardless, of their milligram strength, the product type they come, in or how much is purchased at one time. This legislation applies to everywhere throughout the state, including places such as Omaha, Lincoln, Kearney, and Nebraska City.
Still, keep in mind that delta 8 THC is an intoxicating substance. Meaning, you should never drive or go to work after taking it. And, as delta 8 is metabolized in the same manner as delta 9, using delta 8 can cause a failed drug test.
Where to Purchase Delta 8 THC in Nebraska
Since delta 8 THC can vary so much in quality, you want to be very careful when it comes to who you buy it from. There are generally two recommended avenues that are more likely to give you a satisfying experience. Also, look for things like lab reports and ingredients lists to know you're getting fine quality.
Marijuana remains illegal in NE, which is why you always want to make sure that you're buying delta 8 products derived from the hemp plant. Marijuana-derived delta 8 THC is strictly against the law.
Local Shops
Cornhuskers may find some local shops that carry delta 8 by searching on Google or Weedmaps. However, if local demand is not high enough, and/or if a store doesn't specialize in hemp, then those quality standards could be lacking. Look up reviews of a store beforehand to make sure they carry genuine, high-quality delta 8.
Online
The other option that has been preferred by a lot delta 8 enthusiasts, is to buy online. This way, you can increase the chances of ending up with a high-quality product that suits your needs. Online shopping comes with a lot of benefits, including:
Larger selection of products available, with different milligram strengths, delivery methods, and formulas for more precise customization.
More affordable prices due to lower overhead costs.
Higher quality standards due to more competition and higher customer demands.
Special offers, clearance sales and promotions throughout the year.
Options to buy in bulk, and purchase money-saving bundles.
The convenience of shopping from the comfort of home.
Products that are fresher due to a faster product turnover rate.
Pure CBD Now boasts a giant variety of delta 8 products which have all been lab-tested and made with carefully sourced ingredients. We carry delta-8 from top brands, and offer every delivery method, milligram strength, strain, etc. that you could possibly ask for. Meanwhile, our fast shipping and affordable prices are hard to beat.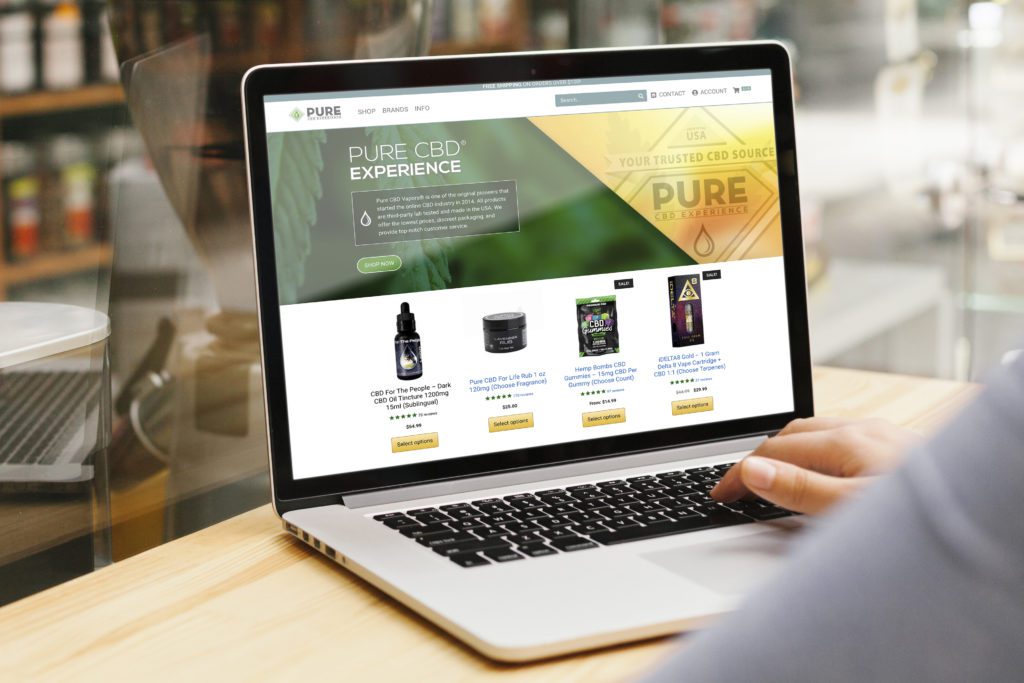 What Places Should You Avoid Purchasing Delta 8 THC From?
When shopping for most other products that you need, the same guidance should apply – when looking to make a purchase, there are some places that should be avoided.
Convenience Stores and Gas Stations
Although these can be convenient locations, it is unlikely that these places are selling high-quality delta 8. They simply do not screen for quality, and instead are simply looking to sell hemp goods cheaply and quickly. There really is no level of expertise needed to spot a fake delta-8 product.
Non-Business Entities
Never buy delta 8 or any hemp-infused product for that matter from an unlicensed business. Companies that sell hemp goods must be registered with their state. If they are not registered, they aren't compliant to begin with and should be avoided at all costs. Also, avoid buying delta-8 from strangers online, in social media outlets, forums, or on Craigslist/Facebook/eBay.
What Kinds of Delta 8 THC Products Can I Buy in Nebraska?
As you've already discovered with CBD, delta 8 THC comes in a wide range of product formulas that are all available for purchase to Nebraska residents. It is imperative to consider each one to figure out which's right based on your unique preferences and goals.
Vape Cartridges: D8 vape carts consist of pure delta 8 THC distillate and terpenes, with a great selection of strains. Being 510-threaded, these cartridges attach to standard vape pens.
Disposable Vapes: D8 disposable vapes consist of a battery and cartridge already attached, with no need to ever recharge or refill. They also come in many great strain options.
Edibles: D8 edibles are known for their long-lasting effects and enjoyable body high. Gummies are the most popular, and you can find many different flavors and strengths out there.
Tinctures: D8 tinctures are for sublingual administration, offering a potency level that's between vapes and edibles. They come in various strength options.
Capsules: D8 capsules consist of delta 8 oil in capsule form, and they behave just like edibles once absorbed by the body.
Flower: D8 Flower is CBD flower infused with delta 8 THC, in lots of great strain selections and both pre-roll and loose bud forms.
Dabs: D8 dabs are too potent for beginners, being concentrates with high levels of delta 8. They are flash-vaporized with a dabbing device.
Topicals: D8 topicals are non-intoxicating since they offer only localized effects to the deep tissue when absorbed through the skin.
Here are some specific Delta 8 products sold by Pure CBD Now and can be shipped to Nebraska:
Koi Delta 8 Disposable Vape Bar 1 Gram – Choose terpenes for this one gram disposable vape. You will be amazed at how easy it is to use. 860mg of Delta 8 THC to enjoy.
Dessert Delta 8 Vape Pen 250mg – Available in many delicious flavors – Lemon Pound Cake, Fruity Loop Milk, Blueberry Cream Pie, and Strawberries n' Cream.. This vape pen contains Δ8 and <.3% Δ9. 250mg Delta 8.
Delta 8 Disposable Hemp Pod 820mg – When you want to keep up with your daily Delta 9 dose then this hemp pod might be the answer. 100% purity and 820mg per pod.
Corn isn't the Only Thing Now Being Grown in the Cornhusker State
Delta 8 THC is widely available to residents of Nebraska, and legal in all of its product forms. If you're an adult living there, we recommend finding a trusted online retailer that can deliver only the purest, cleanest lab-tested, and federally compliant delta 8 possible. This all to ensure once again, that you're satisfied with your overall delta 8 experience.
Note: Best to check up on the laws periodically as that can always change. With delta 8 THC being new, most states haven't had the chance to give statements on this cannabinoid. Still, delta 8 is likely here to stay, since it's a compound that's legal as CBD is on a federal level.