Pure CBD Now and sister brand iDELTA8 have both gone above and beyond to deliver high-end hemp products to the masses, with an emphasis on vaping products that has since expanded to include other types of formulations consisting of both CBD and delta 8 extracts. With so many products to choose from, we want to help you find the best products possible to meet your needs and goals.
First, About Pure CBD Now and iDELTA8
When Pure CBD Now first set out to launch a CBD company, we didn't expect to develop such a loyal following so soon. You could say that our success comes from the fact that we truly know and respect the hemp plant and all of the unique properties that it has to offer.
iDelta8 has given us a more intuitive way to experience the effects of this fascinating psychoactive but legal compound with a range of formulas intended to deliver the properties that we are seeking out in a bioavailable, clean, and easy-to-dose manner.
The iDELTA8 Vaporizer is a highly advanced battery device that works with any 510-threaded cartridge. This device is fully rechargeable and capable of charging quickly while treating your cannabinoids to the best through controlled output that prevents destabilization when puffs are fired. Offers various voltage settings based on your preferences for flavor, vapor production, and potency, while accommodating all oils.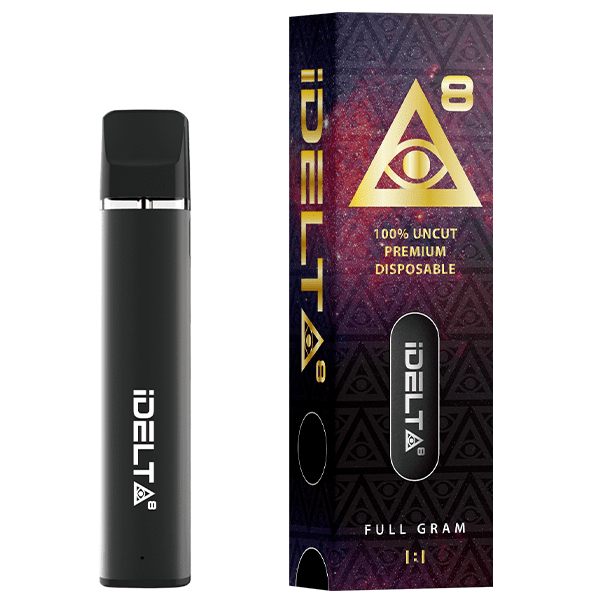 Choose an iDelta8 Vaporizer Because…
510-threaded compatible
Variable voltage
Fast-charging
Durable
Pocket-friendly
iDELTA8's Syringe is a powerful concentrate used for dabbing. It has a higher potency level that comes from further processing the natural hemp extracts to achieve impressive concentrations.  That being said, it's better for advanced users due to its heightened strength.  Comes in a rich array of terpene profiles from indica, sativa, and hybrid strains, while offering three unique formulas. Just choose how potently psychoactive you want your dabbing experience to be.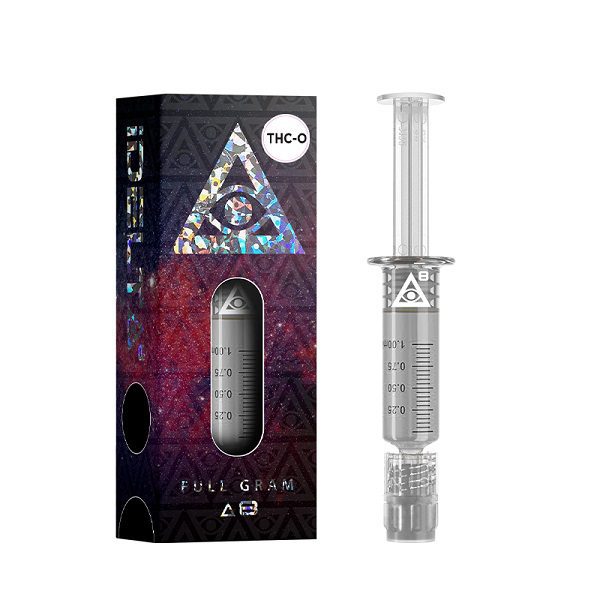 Choose an iDELTA8 Dab Syringe Because…
High strength for advanced users
Various strains available
3 CBD to delta 8 ratios
Travel-friendly
Mess-Free
If you're intrigued by the unique and customizable formulas from iDELTA8 but just aren't that into vaping, consider their tinctures, which offer the same options but in a way that allows you to experience these plant properties sublingually so that no inhaling is required. Each 30ml bottle offers 1500 milligrams of hemp compounds that are administered easily through the dropper cap. Pick between three different formulas based on your delta-8 potency desires and choose a strain that appeals to your daily needs.
Choose iDELTA8 Tinctures Because…
Alternative to vaping
3 distinctive CBD to delta 8 ratios
Variety of strains
1500mg per 30ml bottle
Easy to administer
iDELTA8 has recently added delta 8 flower to their product lineup, and as you'd expect, it's not just any ordinary flower. Available in three exciting and desirable strains, this flower comes from organically grown hemp farms known for yielding the best quality and compound diversity around. Choose between the 3.5-gram and 7-gram options based on your daily needs, while savoring a full spectrum hemp experience with the bonus of the perfect amount of pure delta-8 THC distillate infused into the buds.
Choose iDELTA8 Flower Because…
Raw, unprocessed hemp flower
Unique strain options
Infused with delta 8 distillate
Sealed carefully for maximum freshness
Versatile
If vape cartridges are your jam, and you love the dreamy properties of delta 8 THC, iDELTA8's vape carts are for you. Available in the same strains and CBD to delta 8 ratios as the syringes and tinctures, these carts attach easily to any 510-threaded device and are disposable yet long-lasting. Each cart contains a full gram of e-liquid that has not been diluted with any cutting agents or fillers whatsoever, allowing the delta 8 and terpenes to really shine.
Choose an iDELTA8 Cartridge Because…
Various CBD to delta 8 ratios available
Numerous strain options
Full gram per cart
Bold terpene flavor
Compatible with any 510-threaded vape pen device
iDELTA8's Disposable Vape Pen is a maintenance-free vaping system with no need to recharge, refill or even assemble. Each pen contains a full gram of e-liquid consisting solely of hemp compounds with no fillers or cutting agents. Available in a stunning array of strains, you can choose from three formulas according to your unique delta 8 tolerance and goals. CBD and delta 8 work synergistically to balance each other out for a milder experience.
Choose an iDELTA8 Disposable Vape Pen Because…
User-friendly
Portable
Variety of strains
Pocket-friendly
No charging required
For those who prefer refillable vaping systems, the Pure CBD Vape Oil is a must-have. Available in a wide array of popular strain options, this vape oil comes in a convenient 30ml dropper bottle, and you can choose from four distinctive milligram strengths to further customize how you experience CBD. The THC-free CBD isolate is one of the purest of its kind, made with the brand's unique extraction process that removes unwanted plant material and impurities. Each e-liquid gets a tantalizing flavor from its terpene profile that allows each puff to taste phenomenal.
Choose Pure CBD Vape Oil Because…
Many strength options
Various strains available
Naturally flavored
For refillable vapes
Large 30ml dropper bottle
Pure CBD Now Distilled CBD Vape Kit includes a cartridge and a compatible, fully reusable vape pen device so that you have everything need. The cartridges come in a huge variety of strains, each containing a distinctive terpene profile, along with a THC-free CBD extract in both 150mg and 300mg strengths. Every e-liquid cart contains only plant-derived hemp compounds and MCT oil, making it one of the cleanest formulas on the market. Meanwhile, the vape pen charges quickly and offers consistently reliable technology to keep you satisfied throughout the day.
Choose Pure CBD Now Distilled CBD Vape Kit 150mg or 300mg Because…
Various strengths available
Wide selection of strains
Vape pen and cartridge included
Clean formula
Reliable technology
Take New Control Over Your CBD and Delta 8 Needs Today!
Pure CBD Now and iDELTA8 have created a rich array of vaping products using the most cutting- edge manufacturing processes available to the hemp industry today. Every product contains clean ingredients and is lab-tested for quality. Overall, especially for delta 8, you can control the effects easily while knowing exactly what to expect from each formula type.